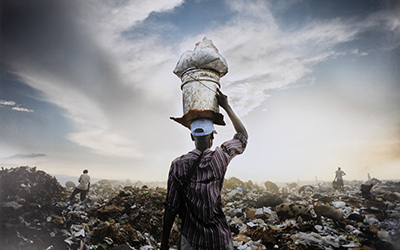 Two new exhibitions, "No Planet B" and "Chicanx Art: Celebrating Hispanic Heritage," are on display at the Hope College Kruizenga Art Museum.
The public is invited to both exhibitions, which opened on Friday, Sept 2. Admission is free.
"No Planet B" features 41 artworks that reflect critically on the many environmental problems that currently face the planet, from climate change and sea level rise to industrial pollution and biodiversity loss. The exhibition is curated by KAM director Charles Mason.
"The title of the exhibition comes from a catchphrase popularized by former United Nations Secretary-General Ban Ki-moon, who said that there can be no plan B for solving the world's environmental problems because there is no planet B," Mason explains. "Although the environment seems to be sliding rapidly into a state of crisis, the exhibition makes the point that solutions to many of our problems exist and can be implemented if we find the will to do so. I think art has a potentially important role to play in that process since it can serve both to warn us about the dangers we face while also inspiring us to envision a better future."
"No Planet B" runs through Saturday, Dec. 10. There will be a related lecture by local environmental artist Sandra Hansen on Friday, Sept. 30, at 4 p.m. in the Hope College De Pree Art Center's Cook Auditorium. The lecture is free and open to the public, and will be followed by a public reception at the Kruizenga Art Museum from 5 p.m. to 7 p.m.
"Chicanx Art: Celebrating Hispanic Heritage" is a smaller exhibition featuring 11 works of art by Chicano and Chicana artists that reflect different aspects of Mexican-American heritage. The artworks date from the 1970s to the early 2020s and touch on a wide variety of subjects, including the United Farm Workers labor movement, the Dia de Los Muertos or Day of the Dead holiday, Mexican wrestling and lowrider cars. All of the artworks belong to the Kruizenga Museum's permanent collection. "Chicanx Art: Celebrating Hispanic Heritage" runs through Saturday, Nov. 5. There will be a related Dia de Los Muertos display created by students from the Hope College Latino Student Organization on view on Tuesday-Saturday, Nov. 1-5.
The Kruizenga Art Museum is located at 271 Columbia Ave., between 10th and 13th streets. Public visiting hours are Tuesdays through Saturdays from 10 a.m. to 4 p.m. Admission to the museum is always free.
The Kruizenga Art Museum functions as an educational resource for Hope College and the greater West Michigan community. The museum features two public galleries, a study room, and climate-controlled storage space for its 7,000-object permanent collection. It is named in honor of a leadership gift from the late Dr. Richard and Margaret Kruizenga, both of whom graduated from Hope in 1952.
Banner Image:
Chicano Heaven
John M. Valadez (American, born 1951)
2013
Serigraph
Hope College Collection, 2022.39
Lower Image:
Cité Soleil 15
Antonio Bolfo (American, born 1981)
2013
Archival inkjet print
Hope College Collection, 2022.49