Hope College presented honorary degrees during its Commencement ceremony on Sunday, May 8, to Dr. Robert Donia and Dr. Richard Frost.
The presentations took place at Ray and Sue Smith Stadium in conjunction with the college's celebration of the graduating Class of 2022.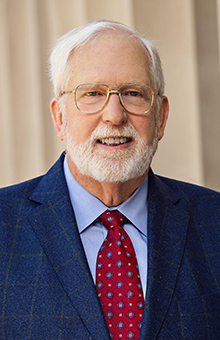 Donia, a 1967 Hope graduate, is an internationally recognized expert on Bosnia and Herzegovina, and received an honorary Doctor of Law (LL.D.) degree for his many years of public service in defense of human rights and work toward international justice. Frost, who is vice president for student development and dean of students at Hope, is retiring at the end of the school year after serving at the college for 33 years, and received an honorary Doctor of Arts (D.A.) degree for his many years of dedication to the holistic development of college students.
Donia is an adjunct lecturer in the Department of History and a research associate at the Center for Russian, East European, and Eurasian Studies at the University of Michigan. He is a foreign member of the Academy of Sciences and the Arts of Bosnia and Herzegovina and holds an honorary appointment as an associate professor of history at the University of Sarajevo.
His experience with the region began while he was a student at Hope, where he majored in history under the late professors Miodrag Petrovich and Paul Fried. He enrolled in the college's Vienna Summer School in 1965, and subsequently traveled to what was then Yugoslavia for a six-week Great Lakes Colleges Association seminar and a semester of independent study at the University of Ljubljana in Slovenia.
Following graduation from Hope in 1967, he taught high school English in Onaway, Michigan for two years, then served in the U.S. Army, with deployments to Germany, Korea and Vietnam, from 1969 to 1972. In 1972 he began graduate studies at the University of Michigan, conducted dissertation research in Sarajevo in 1974-1975, and received his Ph.D. in history from Michigan in 1976.
From 1978 to 1981 Donia taught history at The Ohio State University Lima Campus, the University of Windsor in Canada and the University of Oregon in Eugene. He then moved to the financial services industry while continuing research as an independent scholar, and in 2000 he retired from Merrill Lynch as the resident vice-president of the firm's La Jolla, California, office.
As an expert historical witness for the prosecution at the International Criminal Tribunal for the former Yugoslavia in The Hague, he gave testimony from 1997 to 2018 in 16 war crimes trials, including those of former Serbian President Slobodan Milošević and Bosnian Serb civilian leader Radovan Karadžić. He also put to use his historical expertise to provide briefings to U.S. Army units preparing to deploy as peacekeepers to Kosovo and Bosnia and Herzegovina
Among his publications are "Sarajevo: A Biography" (Michigan, 2006) and "Islam under the Double Eagle: The Muslims of Bosnia and Hercegovina" (East European Monographs, 1981). In his biographical work, "Radovan Karadzic: Architect of the Bosnian Genocide" (Cambridge, 2015), he drew upon documentary evidence he submitted into evidence and his experience of being cross-examined for 20 hours by Karadžić at trial in The Hague. Also calling upon evidence submitted at The Hague, Donia edited the dual-language English and Serbian work, "From the Assembly of Republika Srpska, 1991-1996: Excerpts from Delegates' Speeches" (University Press Sarajevo, 2012). Together with John Mulder (Hope, 1967), Donia co-edited "Into All the World: Hope College and International Affairs. Essays in Honor of Paul G. Fried" (Holland, Michigan: Hope College, 1985). He has also authored more than 50 articles, essays and reviews in scholarly journals published in the U.S., Great Britain, Austria, Croatia, and Bosnia.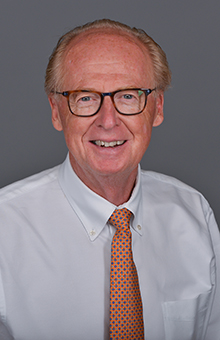 Frost joined the Hope staff in 1989 as dean of students, and in 1997 was additionally named vice president for student development. In his role, he mentors and guides the student body and oversees student development services on campus. The Student Development offices at the college include the Center for Diversity and Inclusion; Counseling and Psychological Services; Dining Services; Health Center; Residential Life and Housing; Student Life; and Volunteer Services.
He is retiring as the longest-serving dean of students (or the comparable position, as professional titles have evolved across time) in the history of the college. Out of the college's nearly 37,000 alumni, more than 23,000 have graduated during his time at Hope.
Among the numerous honors received by individual programs and staff in Student Development across the past three-plus decades, Hope was one of only 115 colleges and universities across the country named to the Carnegie Foundation for the Advancement of Teaching's "2010 Community Engagement Classification."
He guided development of the vision for the 42,000-square-foot Jim and Martie Bultman Student Center that opened in August 2017. The LEED Gold-certified building prominently features a campus "family room" looking out on the iconic Pine Grove in the center of campus in addition to gathering spaces for students and events, a chapel, the Kletz Market café, office space and a connecting link blending the building with the existing DeWitt Student and Cultural Center.
On April 21 of this year, Frost delivered the address "Lessons That I have Learned" through the Last Lecture Series organized by the college's chapter of Mortar Board, an event co-sponsored by Hope's Student Congress. Speaking from the audience afterward, one of the five presidents with whom he served — Dr. James E. Bultman, who led the college from 1999 through 2013 — provided insight into a less tangible aspect of Frost's time at Hope and legacy, lauding the way that he served: "In my experience, I have never seen any person who was able to empathize as well as you do, and you did it for all of us for these 33 years. Hope students had the privilege of knowing that their dean of students really cared about them." The sentiment was echoed by 2021-22 Student Congress President Luke Rufenacht, a graduating senior, in a feature about Frost in the Spring 2022 issue of the Hope College magazine, News from Hope College: "The thing that's always stood out to me about Dean Frost is that he's truly a student advocate," Rufenacht said. "He's a really great connector, a greater advisor and definitely a mentor."
Prior to coming to Hope, Frost was associate director of housing and residential services at the University of California-Santa Barbara. He had previously served as resident director at both the University of California, Davis and Michigan State University; directed the multi-ethnic program at the University of California, Davis; worked in the Student Development Office at Michigan State University; and served as an admissions counselor at Luther College in Decorah, Iowa. He earned a bachelor's degree in 1973 from Luther College, where he majored in political science and business administration; and his master's degree in 1977 and doctorate in 1989 — both in higher education administration — from Michigan State University.