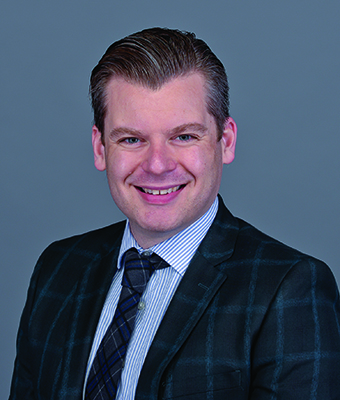 As the members of Hope College's graduating Class of 2022 prepared to receive their diplomas and cross the stage into the future, Commencement speaker Dr. Marcus Fila of the management faculty shared one last lesson before they became alumni instead of students: "Play the Long Game."
More than 710 graduating seniors participated in the ceremony, held on Sunday, May 8, at Ray and Sue Smith Stadium.
An associate professor of management, Fila encouraged the members of the class to think long-term instead of getting caught up in the immediate.
Read the 2022 Commencement address
See the 2022 Commencement Photo Gallery
The short term is alluring, he said, because its costs aren't immediately apparent. "On any given day the impact may be small; but the accumulation of tiny disadvantages makes the future harder," he said. "Only when the costs become too large to ignore, do people realize that they have been playing the wrong game."
In contrast, Fila said, "Playing the long game means paying a small price today to make tomorrow easier, for you, for the people and society around you. You compound results, but this time in a positive way."
Fila was chosen as this year's featured speaker by the graduating seniors, who had an additional recognition in store for him before he spoke. They named him the recipient of the Hope Outstanding Professor Educator (H.O.P.E.) Award. Revealed during Commencement each year, the award is presented to the professor who the members of the class feel epitomizes the best qualities of the Hope College educator.
Also prior to the address, Hope presented honorary degrees to Dr. Robert Donia and Dr. Richard Frost. Donia, a 1967 Hope graduate, is an internationally recognized expert on Bosnia and Herzegovina, and received an honorary Doctor of Law (LL.D.) degree for his many years of public service in defense of human rights and work toward international justice. Frost, who is vice president for student development and dean of students at Hope, is retiring at the end of the school year after serving at the college for 33 years, and received an honorary Doctor of Arts (D.A.) degree for his many years of dedication to the holistic development of college students.
Although Fila's emphasis during his address was on the value of long-term thinking, he acknowledged that there are times that pressing matters require attention.
"[T]here are short-term goals which cannot be ignored," he said. "For example, day-to-day demands for your classes. At work, there are always pressing goals for today, or even this hour. We can't always be looking misty-eyed into a future which hopefully awaits us."
The problem, he said, is being too devoted to such goals, often at the expense of long-term success or stability.
"The short game is putting off anything that seems hard. The short game is taking advantage of your counterparties for immediate gains, like taking every last penny you can from a customer, or burning out your employees. The short game is spending more than you earn. The short game is not taking care of your health or relationships. The short game is having an opinion on something, or someone you don't know anything about. The short game is ignoring your faith, because you take your salvation for granted."
Fila subsequently presented strategies for thinking instead in the long-term in career, education, faith, and friendships and relationships:
to discern calling even while addressing the real and present need for employment;

to realize that the benefits of their education will build over time, and to keep learning;

to be deliberate in cultivating a relationship with God;

and to actively maintain meaningful friendships.
To guide the graduates as they considered what the long game might mean in their lives, Fila also posed a question: "What really irritates you?" The impetus, he said, was an approach to priority-setting that he credited to Hope College President Matthew A. Scogin, who he noted "has a mantra that the place in life you should make a difference is where you see something that irritates you."
"[T]hink about that aspect of life that irritates you, and how you can make a difference there," Fila said. "As soon as this commencement ceremony concludes, be the agents of change, and of stability, that this world needs, by playing the long game in life. You won't regret it, and neither will the world around you."
The ceremony was preceded by the college's Baccalaureate services, which were held in Dimnent Memorial Chapel and featured the address "A Proverb for Life" by the Rev. Paul Boersma, the college's Leonard and Marjorie Maas Endowed Senior Chaplain, who is retiring from Hope after 28 years at Hope.
Read the 2022 Baccalaureate address
Boersma based his text on Proverbs 3:27, "Do not withhold good from those to whom it is due, when it is in your power to do it." Reflecting on the passage, he said, "It's a proverb that I believe when lived out, has the power to impact relationships between people regardless of age, gender, race, economic status, political preference or educational background for good."
He explained that the message carries into the New Testament, as expressed by Jesus in Matthew 5 ("No one after lighting a lamp puts it under the bushel basket, but on the lampstand, and it gives light to all the house. In the same way, let your light shine before others, so that they may see your good works and give glory to your Father in heaven.").
"Jesus reminds us here, that our good works are not driven out of self-promotion but out of a deep gratitude of God's grace in Jesus Christ and a genuine longing for others to come to know God and experience his goodness," he said.
Boersma shared the story of a teacher whose compassion encouraged a failing elementary-age student who had lost his parents to focus on his schoolwork and ultimately go on to become a physician. He told of the members of a softball team who carried an injured opponent around the bases so that she could score a run. He recalled the message of the 2000 film "Pay It Forward" and its message about the transformational potential of even a small act of kindness.
He noted that he had observed the members of the graduating class living in the same spirit: as mentors for elementary students in the community; raising funds for non-profit organizations; and on behalf of their peers through activities on campus. He encouraged them to continue to do so, transforming lives and serving as examples of the Christian faith in action.
"As you go out from this place, and whether you go East, West, North or South, tuck this proverb in your back pocket and use it generously today, tomorrow and throughout the rest of your lives for God's glory and for His Kingdom to be experienced here on earth as it is in heaven," he said.