The Hope College Alumni Association will present Distinguished Alumni Awards to Jalaa' Abdelwahab, who is a 1997 graduate, and the Rev. Dr. Timothy L. Brown, who is a 1973 graduate, on Saturday, April 30, during the college's annual Alumni Weekend.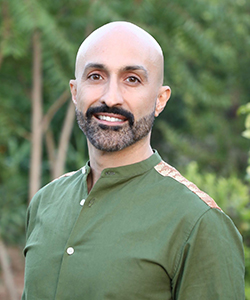 Abdelwahab recently became Director of Vaccine Programmes in the Country Programme of the Global Alliance for Vaccines and Immunization (GAVI) in Geneva, Switzerland, following 10 years with the United Nations Children's Fund (UNICEF) and 10 years previously with the Centers for Disease Control. Brown is retired from the presidency of Western Theological Seminary in Holland, from which he is also retired as the Henry Bast Professor of Preaching Emeritus.
Abdelwahab and Brown will receive their awards during a banquet taking place at the college's Haworth Hotel as part of Hope's first in-person Alumni Weekend since 2019. The onset of the global COVID-19 pandemic in the spring of 2020, and its subsequent continuation, prompted the college to cancel, postpone or reformat the 2020 and 2021 reunion-related activities. The 2020 and 2021 DAA recipients, for example, were recognized through recorded video interviews with Hope College President Matthew A. Scogin.
Abdelwahab is a seasoned leader, manager and infectious disease epidemiologist with more than 20 years of broad international experience in strategy design, management, and implementation of development and humanitarian programs targeting vulnerable high-risk populations domestically, in the U.S., and globally. He has served extensively in the Middle East, Africa and Asia.
GAVI, the Vaccine Alliance is a public-private partnership that helps vaccinate the world's children against some of the world's deadliest diseases. Since its inception in 2000, GAVI has helped to immunize more than 888 million children and prevented more than 15 million future deaths, helping to halve child mortality in 73 lower-income countries. In his role with GAVI, Abdelwahab leads and coordinates the alliance's efforts to improve and accelerate equitable and sustained delivery of vaccines, including introduction of new vaccines, in GAVI-supported countries.
Prior to joining GAVI earlier this year, he had been with the United Nations Children's Fund (UNICEF) for a decade, most recently as Deputy Representative-Programmes in Phnom Penh, Cambodia. He had previously been based in New York City with UNICEF, first as a health specialist with the immunization unit of the Polio Team, and subsequently as deputy director of the UNICEF Global Polio Team.
Before joining UNICEF, he served in the Global Immunization Division of the Centers for Disease Control and Prevention. He was initially a technical officer with the Polio Eradication Program, seconded to the Eastern Mediterranean Regional Office of the World Health Organization in Cairo, Egypt, and subsequently a health specialist with the Immunization Unit, seconded to the New York City Department of Health and Mental Hygiene working on the tuberculosis-control programme.
He has published extensively on epidemiology and other health-related issues, including articles in the Journal of Infectious Diseases and the Journal of Clinical Microbiology. Among other honors, he received a Centers for Disease Control and Prevention Recognition Award in 2008 for supporting polio eradication efforts in the critical countries of Pakistan, Afghanistan, Somalia and Sudan, and the WHO EMRO Appreciation Award in 2006 for contributions for polio eradication in Egypt. In 2003, Abdelwahab was awarded the Distinguished Service and Achievement Award of his CDC's Public Health Prevention and Service fellowship. Hope presented him with a Young Alumni Award in 2010.
He has returned to Hope as a guest speaker on multiple occasions. In October 2008 he spoke about his work with the World Health Organization during the college's Critical Issues Symposium, "Global Health: From Catastrophe to Cure." In 2005 he was among the alumni speakers featured during the opening of the Martha Miller Center for Global Communication and presented the A.J. Muste Memorial Lecture.
Abdelwahab received a scholarship at Hope College after finishing his high school diploma at the Friends Quaker Schools in Ramallah, Palestine. At Hope, he majored in biology and minored in biochemistry. He subsequently completed a Master of Public Health degree in epidemiology and international health at the University of Michigan in 2000, and conducted additional study through the Health Policy and Financing: Achieving Results for Children course of the London (U.K.) School of Hygiene and Tropical Medicine in 2010.
Abdelwahab is passionate about the intersectionality of identities and the interconnectedness of global justice issues. He enjoys swimming, painting and spending time with his loved ones, including his 26 nieces and nephews.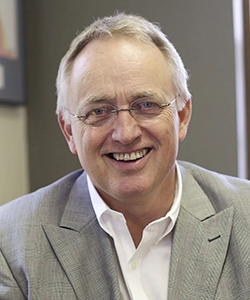 Brown was the president of Western Theological Seminary from 2008 until retiring from the role in 2019. He was also the Henry Bast Professor of Preaching at the seminary from 1995 until retiring from teaching in 2020. A seminary of the Reformed Church in America (RCA), Western Theological Seminary is located adjacent to Hope College, which is affiliated with the RCA.
Across Brown's 25 years at the seminary, enrollment increased from 58 to more than 400 students with an increase in the national reputation of the program and faculty, and he personally trained more than 1,000 men and women to preach and teach the Word of God. Among other achievements during his tenure as president, the seminary revised its Master of Divinity curriculum, and added a Master of Arts program; Graduate Certificates in disability and ministry, and in pastoral ministry; and a Hispanic Ministries Program. Through successful fundraising, including the $27 million "Our New Day" capital campaign, the seminary completely renovated its campus, with expansions including the Jack and Mary DeWitt Learning Center completed in 2018.
He has served as the General Synod Professor of Theology for the Reformed Church in America since 2006. He wrote chapters for the books "A Goodly Heritage: Essays in Honor of the Reverend Dr. Elton J. Bruins at Eighty" (2007) and "Intergenerational Worship" (2007); was a contributing editor to the "Renovare Spiritual Formation" Bible" (2005); and through the years has written several articles for publications including The Church Herald, The Reformed Review and Perspectives magazine.
Brown's extensive involvement with Hope through the years includes serving as the Hinga-Boersma Dean of the Chapel from 2001 to 2003, a position he held while also a member of the seminary faculty, and as an adjunct member of the college's religion faculty. He served for several years on the Hope College Board of Trustees, including from 1998 until his 2001 appointment to the deanship, and again from 2003 until 2012. He delivered the college's Baccalaureate sermon in 1992, and Commencement address in 2004.
In addition to his service on Hope's board, he has served on the Board of Trustees of Words of Hope, which is the worldwide radio broadcast of the Reformed Church in America, and on the Board of Trustees of Pine Rest Christian Hospital. He is a member of Rotary Club International, which named him a Paul Harris Fellow in 1990. He is also a certified public school substitute teacher.
Brown majored in religion and Bible at Hope. He completed his Master of Divinity degree at Western Theological Seminary in 1976, and his Doctor of Ministry degree at the seminary in 1992.
From 1983 to 1995, he was pastor of Christ Memorial Church in Holland. He served the First Reformed Church of South Holland, Illinois, from 1980 to 1983, and Fellowship Reformed Church in Hudsonville from 1976 to 1980.
Brown and his wife, Nancy, who is a member of the college's Class of 1971, have three children: Sarah Lefebre; Jon Brown, who is a member of the Class of 1999; and Rebekah Hutt, who is a member of the Class of 2000.
Friday and Saturday, April 29-30, will also feature reunions that include classes that missed the opportunity in 2020 and 2021, with celebrations for 1970-72 (50th); 1980-82 (40th); and 1990-92 (30th). Other highlights during the weekend will include a 50th-year brunch for the Class of 1972, and events for the 50-Year Circle, among them a luncheon for the Classes of 1971 and older, and a ceremony inducting the Class of 1972 into the group.
Additional information about the weekend, including how to register for the banquet, is available online at hope.edu/alumniweekend