Big Read Lakeshore
Little Read Lakeshore
Little Read Lakeshore is an annual, month-long community-wide reading program that creates and fosters a culture in which reading matters to children, families and those who support, advocate for and work with children.
The Little Read Lakeshore is connected to but separate from the Big Read Lakeshore program.
2019 Book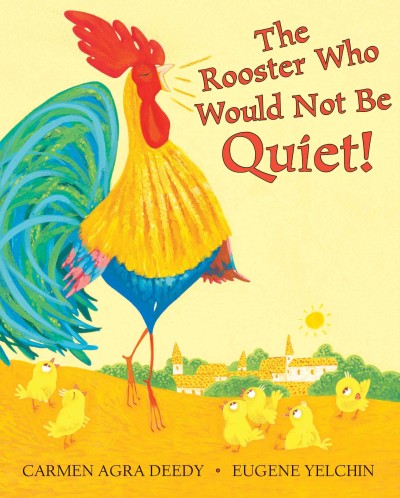 The Rooster Who Would Not Be Quiet!
by Carmen Agra Deedy, illustrated by Eugene Yelchin
Available in both English and Spanish
La Paz is a happy, but noisy village. A little peace and quiet would make it just right. So the villagers elect the bossy Don Pepe as their mayor. Before long, singing of any kind is outlawed. Even the teakettle is afraid to whistle! But there is one noisy rooster who doesn't give two mangos about this mayor's silly rules. Instead, he does what roosters were born to do. He sings: "Kee-kee-ree-KEE!"
Find the Book
Previous Books
2018

2017

2016

2015
About the Program
The Little Read Lakeshore program brings together young readers and their families, along with other adults invested in the literacy lives of children, around one book for the purposes of reading, discussing and exploring the humanities themes of the book. We actively work to offer a wide variety of programming during our focus month that will appeal to a diverse population and that will attract children, families and community members. Main events and book discussions take place in a variety of spaces and locations and are planned to engage the chosen book and its topics from a variety of perspectives, experiences and angles, including not only lectures by engaging speakers, but also featuring film, food, music and art.
The Little Read Lakeshore also collaborates with area preschool and elementary schools along with the Ottawa Area Intermediate School District and Allegan Intermediate School District to engage students in the reading and discussing of the chosen book in classroom settings. We provide participating schools with a unique opportunity to interact with a world-renowned author and/or participate with guest speakers and performers to better understand the book and its humanities-based topics and themes. Specifically, the goal of our work with area schools is to promote and support the literate lives of young readers.
Big Read Lakeshore
Van Zoeren Hall41 Graves PlaceRoom 288Holland, MI 49423
workP. 616.395.7740
thebigread@hope.edu