Hope Academy of Senior Professionals (HASP)
History
The Hope Academy of Senior Professionals (HASP) was founded with 38 members in 1988 by Dr. John Hollenbach, Hope College professor emeritus of English, with the support of Dr. John Jacobson, president of Hope College.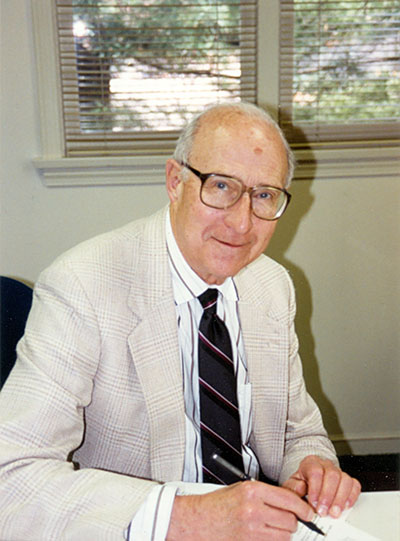 As Dr. Hollenbach approached retirement and reflected on the prospect of being cut off from the stimulus of his career, he began researching lifelong learning programs and visited Eckerd College in St. Petersburg, Florida.
Nine years later, in 1987, he wrote his first memo to President Jacobson titled "Thoughts on Developing a Hope Academy of Senior Professionals." In this memo Dr. Hollenbach outlined the goals of the academy, potential participants, location, activities, projects, costs, funding and the governing structure. Several memos, meetings and interest letters later, a planning group was formed.
In May 1988, a formal prospectus was written for local senior professionals who may have an interest in joining the academy as charter members. It outlined a purpose that included educating Hope students and furthering the growth of members themselves. It also outlined a primarily peer-led program, with 38 people in attendance.
By April of 1989, HASP was invited to join the newly created Elderhostel Institute Network, an association of institutes for learning in retirement. The first constitution and bylaws were adopted in 1991 and by 1994 the board had voted to accept a revised constitution and bylaws. In February of 1995 minor changes were made and HASP officially became a part of Hope College with the official documents signed by Hope College President John Jacobson and HASP President Norm Lunderberg. Today, HASP is part of the Alumni and Family Engagement office at the college.
Over the years HASP has maintained its primary purposes: to enrich the intellectual, cultural and social lives of its members and to make available a wealth of wide-ranging knowledge, talent and experience to Hope College and the greater community through curriculum offerings, service projects and opportunities, and special events.
HASP has grown to over 700 members and offers more than 100 courses a year over three semesters. Other activities include monthly programs, monthly special events and on-going service opportunities. HASP continues to emphasize peer-led programs and the importance of lifelong learning, good listening, reading, sharing and the pleasure of discussion.
Read a full HASP history, published in 2013 as part of HASP's 25th Anniversary.
Hope Academy of Senior Professionals (HASP)
Anderson-Werkman Center100 East 8th StreetSuite 150Holland, MI 49423
workP. 616.395.7919
hasp@hope.edu