Geological and Environmental Science Department
Courses
Our courses, whether in environmental science or geology, actively engage students as they learn skills they'll use professionally and in graduate study.

Starting in Environmental Science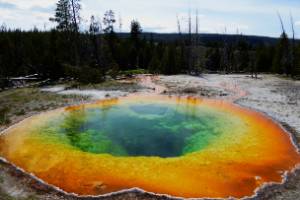 Environmental science is interdisciplinary. You'll work and study with students from across the sciences in courses that emphasize teamwork and communication. You'll learn about global environmental systems while also applying your knowledge in hands-on projects that address local issues.
Most students take GES 130: Introduction to Environmental Science as their first course. You should have a semester of college-level chemistry before taking 200-level or higher courses in the environmental science program.
Starting in Geology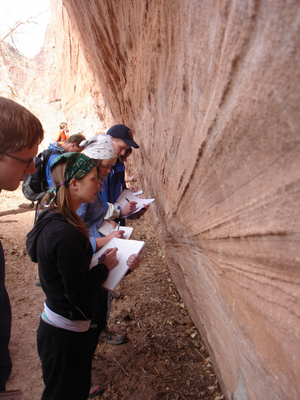 The geology curriculum covers a broad cross-section of geological specialties, including sedimentology, geomorphology, hydrogeology, geochemistry, structural geology, mineralogy and paleontology. Our program emphasizes field trips so you can see geology rather than just read about it. Most courses include lab or weekend field trips, while regional geology courses devote Spring Break or a May Term to visiting a different region in North America where you can experience new geological settings first hand.
You can take either GES 125: Michigan Field Geology or GES 100: Planet Earth, as your first geology course. Majors typically also take GES 111: How the Earth Works during their first semester. GES 203: Historical Geology, is a good course to take the following Spring Semester. Geology majors should also take General Chemistry early in their college career.
GES professors are happy to plan a course schedule that fits your specific situation.
Example Schedules
Environmental Science Minor in Five Semesters

B.A. Geology Major in Two Years

B.S. Geology Major

B.S. Geology Major and Environmental Science Minor
Geological and Environmental Science Department
A. Paul Schaap Science Center35 East 12th StreetRoom 2107Holland, MI 49423
workP. 616.395.7540
bodenbender@hope.edu