Office of the Dean for Natural and Applied Sciences
Clare Boothe Luce Research Scholars
The Clare Boothe Luce Research Scholars program supports women in computer science, engineering and physics through opportunities to expand their knowledge through research, build their professional network and encourage future generations through outreach.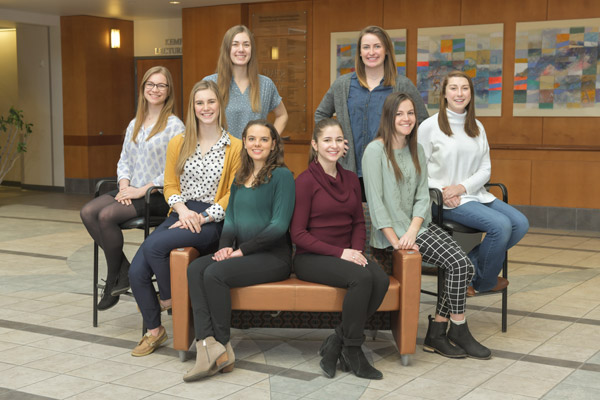 If you are named a Clare Boothe Luce Research Scholar, you will be able to enhance your Hope College experience by:
Working with a faculty member on challenging and important problems in your field of study as part of a student research team. You will be paid to participate in two summers of research, building your mentoring and leadership skills by serving as a project leader during your second summer. You will receive free on campus housing while working as a researcher.
Building your professional network through being mentored by a professional who works in your field. This mentor will meet with you at the beginning of your first summer of research, attend the final summer project presentation and work with you to build a customized mentoring plan.
Expanding your knowledge and skills through completion of an internship during your third year, either during the academic year, the summer or both. Hope College has relationships with a large number of companies in West Michigan and beyond, and will work with you to ensure you complete an internship that is a great fit.
The ability to communicate your work is one of the reasons employers seek students from liberal arts colleges. As a CBL Research Scholar, you will build your communication skills by presenting your work at the annual Hope Celebration of Undergraduate Research and Creative Performance. You will also travel to and present at a regional or national conference about your work — all expenses paid!
Eligiblity
To be eligible to be named as a Clare Boothe Luce Research Scholar, you must be
A first- or second-year student who has declared (or is planning to declare) a major in computer science, engineering or physics
A U.S. citizen or permanent resident
If you plan to attend medical school after graduation, you are unfortunately not eligible for this program.
There is no minimum GPA requirement. However, in order to participate in the second summer of research and be guaranteed to be placed in an internship, CBL Research Scholars must maintain a GPA of at least 3.0 within the courses required for your major program.
Application
To apply for a CBL Research Scholar position, you will need to complete the standard application process through SHARP (Summer Hope Academic Research Program). You will choose and rank the projects you are interested in working on as part of the SHARP application.
In your application essay, you should indicate your interest in being considered for a CBL Research Scholar position, and address the following:
Your commitment to participate in the program for two years, and indicate any skills or personal characteristics that will make you a good candidate to serve in a leadership role during the second summer.
Your willingness and enthusiasm for participating in and organizing outreach events targeted at increasing participation by women and/or other underrepresented groups within your discipline. Be sure to describe any experiences you have had as either a participant or leader in such events.
Whether you would be willing to serve as a mentor for other young women in your discipline once you have graduated from Hope College.
Summer research application deadlines vary by department, but are usually around mid-February.
More Information
How much will I be paid?

How many CBL Research Scholars are there?

Who are the mentors for this program, and where do they work?

What happens if I change my major?
Have a question?

Contact Dr. Ryan McFall in the Department of Computer Science.
Office of the Dean for Natural and Applied Sciences
A. Paul Schaap Science Center35 East 12th StreetRoom 2000Holland, MI 49423
workP. 616.395.7317
nas@hope.edu