Philosophy Department
Courses
Award-winning faculty teach on the philosophy of Plato, the Catholic philosophical tradition, Zen Buddhist philosophers — and more.

View full course information in the catalog
Special Topics – FALL 2022

This is not a full list of upcoming philosopy courses. To see a complete list and course details, including dates, times and professors, please see the Registrar's course schedule.

Phil 195.01A&B The Christian Philosophy of St. Thomas Aquinas
In this course, we'll survey some of the main points of St. Thomas Aquinas's Christian thought. We'll use the Compendium Theologiae as the core text, but we'll consider other issues using selections from the Summa Theologiae, the Summa Contra Gentiles and more. Topics to be covered include the nature of God (unity and Trinity); human nature; divine providence; the resurrection; heaven, hell and purgatory; the Incarnation (and the role of the Virgin Mary); some philosophical puzzles concerning the sacraments; and more. Aquinas has something to say about just about everything, so if you have a topic you think is missing, we may be able to add something to this list!

PHil 450 capstone seminar in Philosophy
Stay tuned! A description for this course is coming soon!
Hope's philosophy department offers courses in applied ethics and philosophies of law, politics, the mind, religion and science, as well as courses in major philosophical movements (such as existentialism and postmodernism), cultures (such as those of India, Tibet, China and Japan) and time periods (such as ancient, medieval and modern).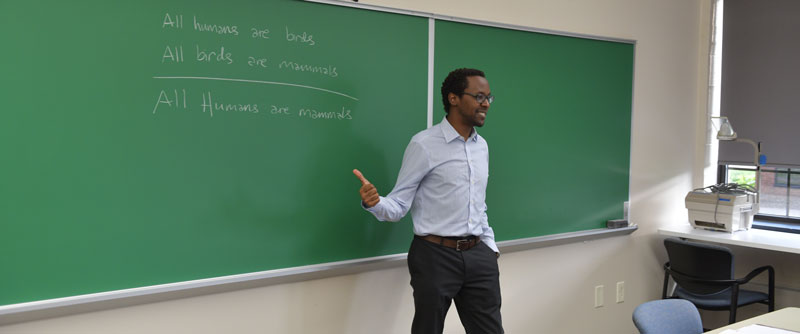 Recommendations and Tips
Philosophy students can take their courses in many different orders, but here are some suggestions for success:
There are no prerequisites for our courses, but it helps to take a logic class (PHIL 200 or 201) as early as possible.
Plan to take PHIL 450 (the Philosophy Capstone) in the fall of your senior year. We expect all majors to do this (and it's definitely recommended for minors as well).
Philosophy majors and minors are encouraged to consider fulfilling a portion of their Cultural Heritage 8-credit requirement through a philosophy course. Several options for doing so also fulfill a portion of the Global Learning requirement.
We encourage students with other majors and minors in addition to philosophy to consult with the chair or other faculty members about philosophy courses that overlap significantly with their areas of interest. For example, some philosophy courses are cross-listed with religion or political science, some are electives within other programs (such as Women's and Gender Studies or the neuroscience minor), and some graduate programs recommend or require undergraduate courses (such as ethics courses for pre-med students).
Honors Program

Our Honors Program allows interested students to go beyond the standard requirements and dig deeper.
Philosophy Department
Lubbers Hall126 East 10th StreetRoom 226Holland, MI 49423
workP. 616.395.7550
philosophy@hope.edu