Alumni and Family Engagement
Discovering the Balkans from the Black Sea to Budapest
This Danube River cruise, taking place June 3–15, 2019, is designed for all interested alumni and friends of Hope College.
The Balkans Tour is sold out!
Trip Highlights
What better way is there to experience many of the most beautiful cultural and natural sights of the Balkans than with a 12-day program cruising Europe's most interesting and exciting river? Cruising through the northern region of the Balkans, the Danube River made expansion in art, culture and trade possible from the East to the West. This one-of-a-kind journey, through four countries and three national capitals, will explore the charming cultural and magnificent natural beauty that makes this part of southeastern Europe a must-see for any world traveler.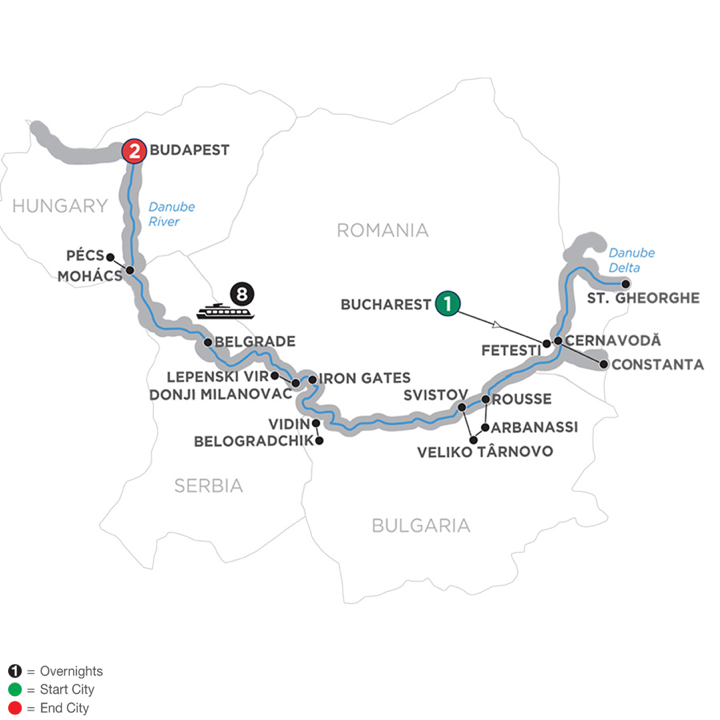 Beginning with one night in Bucharest, Romania, you will then embark on the ship, The Avalon Passion, for eight picturesque nights of travel along the beautiful Danube River and disembarking in Budapest, the capital of Hungary, for two days.
Highlights of the program include:
Arc de Triomphe and Royal Palace Square, Bucharest
UNESCO World Heritage Site: Danube Delta
Constanța, Romania's oldest continually inhabited city
Veliko Târnovo, ancient capital of Bulgaria
Bulgarian Folklore Show
Ethnographical Museum and Church of the Nativity in Arbanassi
Belogradchik Rocks, Vidin's fortress
Iron Gates Gorge and Lepenski Vir archaeological site
Serbia's capital: Belgrade
UNESCO World Heritage Site: Pécs, Hungary
Organ Concert in Pécs
Széchenyi Chain Bridge, connects Buda and Pest
Heroes' Square, Great Market Square, Royal Palace, Budapest
About HASP

Program Leader

Itinerary

Geography and Natural Beauty

Culture and Identity

What to Expect

Ship and Room Options

Program Fee
TAKE ACTION
Make second or final payment (coming soon)
Complete required paperwork (coming soon)
INTERESTED IN LEARNING MORE?
Pat Van Wylen leads the Global Travel Program. She has an office on 8th Street and looks forward to meeting you soon.
Alumni and Family Engagement
DeWitt Student Cultural Center141 East 12th StreetLower LevelHolland, MI 49423
workP. 616.395.7250
alumni@hope.edu