Art and Art History Department
Facilities and Studios
The Department of Art and Art History is located in the
De Pree Art Center & Gallery, more commonly known
as De Pree.
De Pree Art Center
275 Columbia Avenue

Holland

,

MI

49423
Renovated from a furniture factory, The De Pree Art Center and Gallery is where modern amenities meet historical craftsmanship. De Pree plays host to six art shows throughout the year and has gained national prestige for its multicultural exhibitions. It also features studios outfitted to teach drawing, photography, ceramics, painting and more. Learn more.
Studios & Facilities
Sculpture Studio 3,360 square feet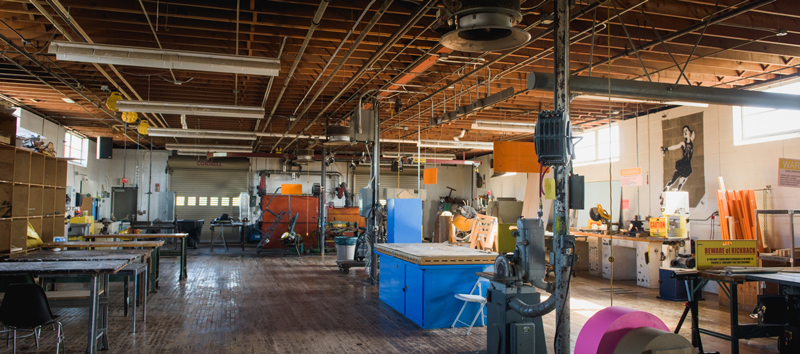 Woodworking
36" Sawstop tablesaw
Bandsaw
Scroll saw
Oscillating drum sander
Belt and disc sander
Sliding compound miter saw
Downdraft table
Various hand tools
Metal Working
Metal foundry (housed within the
ceramics studio)
Drill press
Metal shear
Metal brake
Metal roller
Horizontal/vertical bandsaw
MIG
TIG
Plasma cutter
Oxy acetylene torch
Grinder and polishing wheels
Hand tools
Gantry
Miscellaneous
Spray booth
Sandblasting cabinet
Wax working area
Pallet jack
Sewing machines
Storage cubicles for student work
Concrete mixer
Compressed air throughout shop
Ceramics Studio 3,200 square feet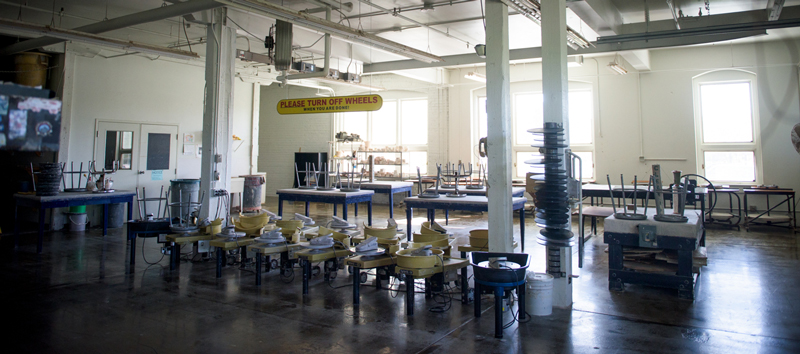 22 wheels
Three Skutt electric wheels
12 Brent CXC electric wheels
Seven kick-style wheels
Slab press
Pugger
Glazing spray booth
Clay and glaze mixing rooms
Small Skutt electric kiln – 240 volt, 48 amp, 1 phase, 11520 watts, 6.4 cubic feet
Medium Skutt electric kilns – 240 volt, 72 amp, 1 phase, 17300 watts, 11.6 cubic feet
Geil natural gas kiln Model DLB-24, 24 cubic feet
Outdoor Raku kiln
Mold Making
Designated plaster room
Mixers
Advanced Painting Studio 2,058 square feet
Skylights and track lighting
Eight studio spaces for seniors
Large group critique spaces
Platform for live models and still lifes
Basic Painting Studio 1,308 square feet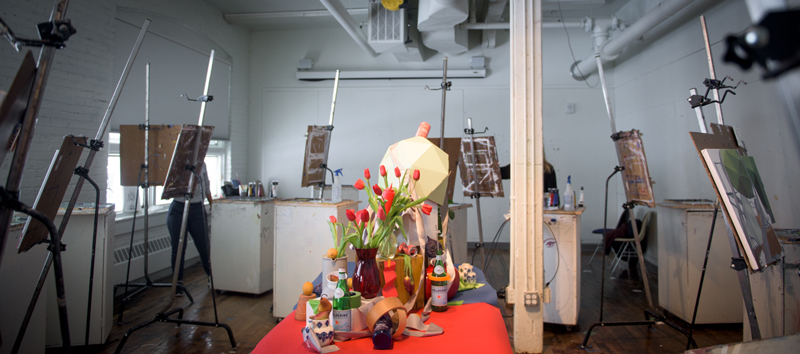 South-facing studio natural and track lighting
Hardwood floors with tall ceilings
James Howard stainless steel easels in two sizes:
93" (accommodates paintings 4–81" tall)
74" (accommodates paintings 4-61" tall)
Drawing Studio 810 square feet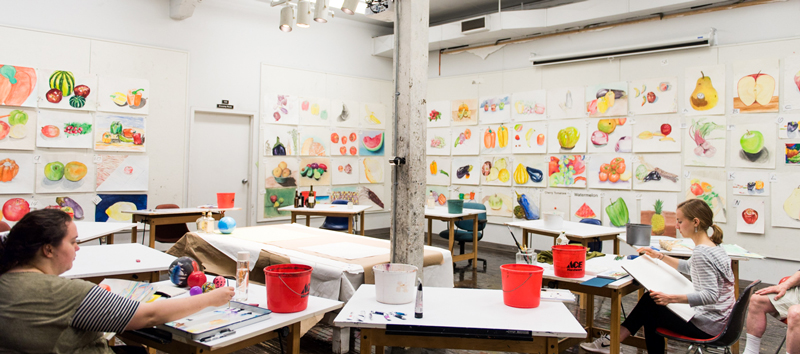 25 drawing horses
20 easels
Skylights and track lighting
Skeleton
Still life room with miscellaneous still life objects and spray booth
Photography Studio 2,609 square feet
Lighting Studio
2,000 square feet (40' x 50')
Six studio strobe lamps
Two soft-box fixtures
Eight continuous lamps
Eight flash triggers and flashes
Reflector umbrellas
Black and white seamless paper backdrops
Five studio spaces for seniors
Photography Darkroom
Ten Saunders enlargers
Six 4" x 5" Omega enlargers
Film loading light-sealed closet
Color film processing
Photography Classroom
36" x 36" light table
Color photo processor
Film developing sink
Film drying cabinet
Large format cameras
Three monorail 4" x 5" lomography panoramic cameras
4" x 5" pinhole camera
Printmaking Studio 1,230 square feet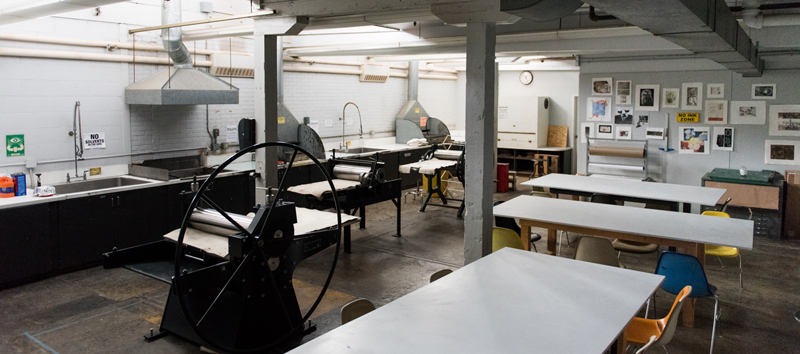 Two presses
American French Tool Press
36" x 60" press bed
Charles Brand Press
26" x 48" press bed
Etching Room
Well ventilated
Ground applying counter
Vertical and flat acid trays
Screenprinting Darkroom
Large format vacuum exposure unit
72" washout booth equipped with powerwasher
Thirty 20" x 24" silkscreens
Two wall-mount scoop coating stations
Two screen drying racks
Studio Space
36 cubbies for student storage
Flat files for work and paper storage
Three 4' x 8' working tables
Hydraulic aquatint box
Tool cabinet with miscellaneous printmaking tools
36" paper cutter
Four large inking stations
31" x 48" print drying rack with 40 shelves
Two hot plates:
36" x 24" for soft ground and aquatint
12" x 18" for inking
Two large washout sinks
One large paper soaking sink
Five screenprinting stations
Fifteen portable screenprinting platens
Mac Lab 2,016 square feet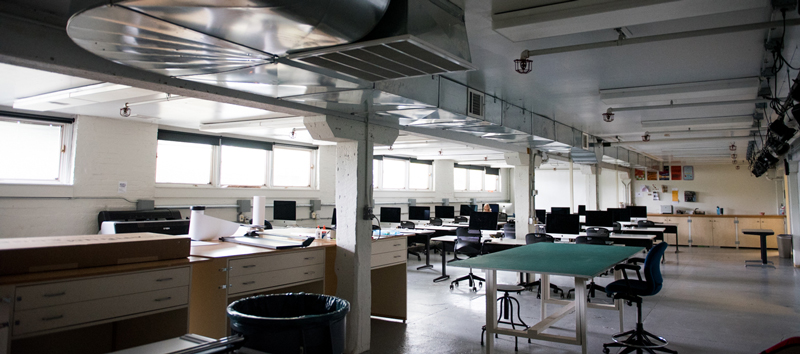 18 Macs with Adobe Creative Suite
Large format photo-quality printer
4' x 8' cutting mat
Rotary cutter
Logan mat cutter
3' x 4' spray booth
Black & white laser printer
24" Epson SureColor P7000
Large guillotine cutter for cutting stacks or trimming books
Two Sindoh 3DWOX 3D printers
Formlabs Form 2 3D printer
Six Epson Perfection V600 flatbed scanners
Art and Art History Department
De Pree Art Center275 Columbia AvenueRoom 138Holland, MI 49423
workP. 616.395.7500
art@hope.edu