"Inclusive Excellence" is the AAC&U's framework for leveraging the strengths of diversity to support student learning and promote institutional excellence.
Inclusive Excellence has four components (AAC&U, 2005):
A focus on student intellectual and social development

A purposeful development and utilization of organizational resources to enhance student learning

Attention to the cultural differences learners bring to the educational experience and that enhance the enterprise

A welcoming community that engages all of its diversity in the service of student and organizational learning
Statement on Racism
At Hope College, we have a very clear stance: Racism is evil.

We believe it is a Christian imperative to be anti-racist and that we should be especially enthusiastic about diversity. God made diversity and He loves it. We are a community that affirms the dignity of all persons as image-bearers of God.

Racism is a topic that requires our constant attention. We can't turn away and pretend it doesn't exist. Christians have to talk about it — ensuring the conversation stays front and center.

Therefore, we are committed to doing everything we know to do to prohibit racism on our campus and foster a diverse, welcoming community.

This involves doing more than just talking. It requires action. We have made progress but have a long way to go. We have an absolute commitment to getting better.

Hope College is called to be a true beacon of hope. One way this can happen is by being a place that is unified in our diversity.

June 5, 2020
Inclusion is an active process that values and engages every individual as co-creators and co-owners of our Hope College culture.
An inclusive culture of excellence means that we embrace the richness of the diversity God created and that we carry the 59 "one another" scriptures with us throughout our Hope community and beyond.
Inclusive excellence is central to our mission, which calls us to "educate students for lives of leadership and service in a global society... in the context of the historic Christian faith."
"Hospitality is a hallmark of the Christian faith. Hope seeks to be a community that affirms the dignity of all persons as bearers of God's image."
—Hope's Christian Aspirations
What We're Doing
The college is committed to:
Creating a Racial Equity Steering Committee to receive and respond to community suggestions and concerns and address inclusive excellence across campus.

Dedicating a standalone space for cultural engagement and the Center for Diversity and Inclusion.

Facilitating a culture of belonging through campus-wide culture action teams launched earlier this year.
In March, Hope College was accepted to participate in the AAC&U 2020 Institute on Truth, Racial Healing & Transformation Campus Centers (TRHT). Senior leaders from across campus are attending a multi-day program on June 16–19, 2020. Hope's TRHT core team includes staff, faculty, administrators, students and community partners.
Overview of Previous and Ongoing Work

Great Place to Work®️ Trust Index Survey©️ data sharing and listening sessions (2015 & 2017)
Special Assistant to the President for Culture and Inclusion position (2015–2018)
Development of workplace culture statement and values (2016)
Nondiscrimination Policy Revision (including Title IX and discrimination based on race, ethnicity, disability, age, etc., to move to a civil rights policy model; 2017)
Equity Resolution Panel (ERP) – reviews nondiscrimination policy allegations (2017)
Implementing new active recruitment, hiring and search committee procedures to recruit diverse applicant pools (2017)
Implemented training on diverse hiring practices and implicit bias in hiring (2017)
Center for Diversity and Inclusion Diversity Institute (2017)
ADA Accessibility Assessment (2017)
Internationalization Audit (2017)
Chief Officer for Culture and Inclusion position created in the President's Office (2018)
Institutional priorities: diversity, culture and inclusion (2018–19 and 2019–20)
DEI sessions at staff Pro-Dev Day (hosted by Human Resources; 2018)
Safe Colleges online professional development: Discrimination Awareness in the Workplace (available through Human Resources; 2018)
New employee orientation Culture, Inclusion, and Applied Response to Bias Session (2018)
Student Congress Chief of Culture and Inclusion & Elect positions (2018)
Accessibility Ambassadors Training (2018)
Pre-College Conference – Accessibility is for Everyone: Equity, Access and Inclusion (2018)
Retention, Equity, and Access – drop-in lunch series (2018)
Campus Climate Survey data sharing (2018)
Board of Trustees Diversity, Equity, and Inclusion sessions (2019)
Culture and diversity items added to annual performance evaluations (2019)
Hope Faculty Fellows program (2019)
Intergroup Dialogue Institute (summer 2019)
Advanced IGD facilitation for faith-based institutions (summer 2019)
Shalom Global Fellows (2019)
Pulse Survey data sharing (2019)
Culture Task Force (2019–20)
Culture Action Team (2020–21)
Newcomers events (2019)
Higher Learning Commission 1.C. Working Group (2019)
Student Congress Culture & Inclusion Committee (2019)
NetVUE Grant: Vocational Exploration for Every Student (2019)
AAC&U Truth, Racial Healing, and Transformation Institute (summer 2020)
Higher Learning Commission Quality Initiative: Culture and Inclusion Unit Champions (2020)

NCAA Athletics Diversity and Inclusion Designee (ADID; 2020)
Where We Are Right Now
Retention rates
Underrepresented groups: 86%
International students: 100%
4-year graduation rates
Underrepresented groups: 53%
International students: 79%
2020 Fall Enrollment
The incoming 2020 class is 19.7% AHANA (African, Hispanic/Latinx, Asian, Native American and multiracial descent)
Second most diverse class in Hope's history (2014 incoming class was 20.1% AHANA)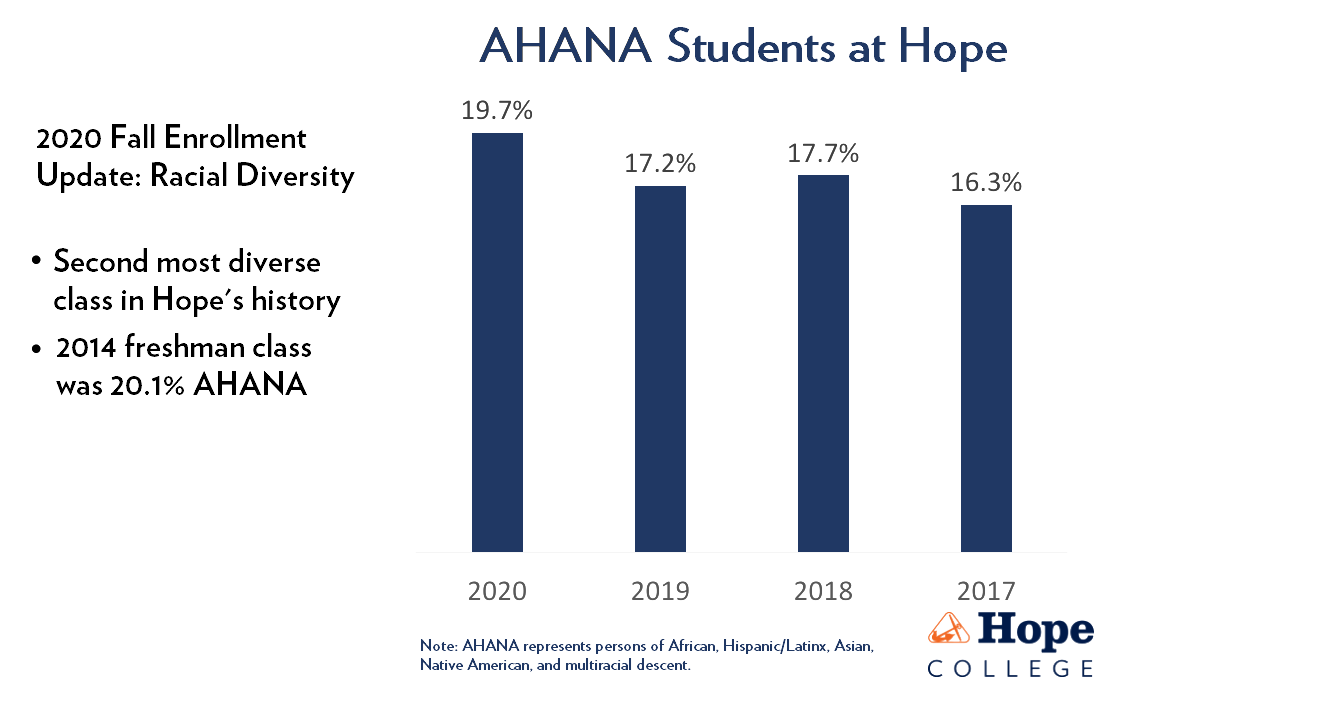 Strategic Plan: Hope for the World 2025
Goal 4: Community:
Hope College will be a community unified by its inspiring mission, strengthened by its diversity, and committed to the flourishing of every individual as one created and loved by God.
Student population stats
Approximately 18% students from underrepresented backgrounds (domestic and international)
Students from more than 30 countries study at Hope
Employee population stats
29% of tenure-track faculty are from historically underrepresented backgrounds
Board of Trustees
22% of trustees are from historically underrepresented backgrounds (2019–2020)
Workplace Culture
Hope College has again been selected in 2020 as one of "West Michigan's 101 Best & Brightest Companies to Work For"! This will be the 15th year that Hope College has been honored with this award.
In 2017, Hope was recognized as a certified Great Place to Work®️
On-Campus Resources
Notice of Nondiscrimination
Hope College seeks to be a community that affirms the dignity of all persons as bearers of God's image. It is Hope College policy not to discriminate on the basis of age, color, disability, family status, genetic information, height, national origin, pregnancy, race, religion, sex, or weight, except in the event of a bona fide occupational qualification. Hope College is an Equal Opportunity Employer.
Chief Officer for Culture and InclusionSonja Trent-Brown
President's Office
DeWitt Floor 2
141 East 12th Street
Holland, MI 49423
616.395.6829
inclusive@hope.edu