About Us
Leadership Team
Dr. Richard Ray
Co-Director
Richard Ray serves as provost emeritus and professor of kinesiology at Hope College. He has been a member of the Hope faculty since 1982, and previously served as the college's chief academic officer, dean for the social sciences and chair of the Department of Kinesiology. He was the college's head athletic trainer, and he developed the academic program in athletic training at Hope. He is the author of more than 40 peer reviewed journal articles and three books on sports medicine, leadership in higher education, and health care management. He teaches courses in the athletic training program, First-Year Seminar, and Senior Seminar, and is presently Co-director of the Hope-Western Prison Education Program, a Hope College degree program at Muskegon Correctional Facility. He is a member of the Hall of Fame for both the Michigan Athletic Trainers Society and the National Athletic Trainers Association. He has a BSEd from the University of Michigan and an MA and EdD from Western Michigan University.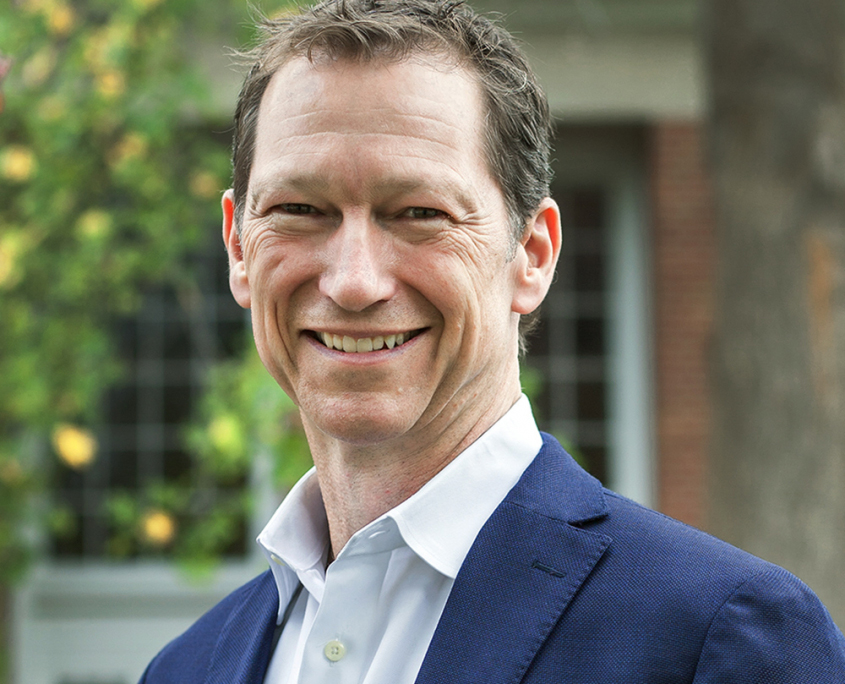 Dr. David Stubbs
Co-Director
Dr. David Stubbs is Professor of Ethics & Theology at Western Theological Seminary. He is Co-Director of the Hope-Western Prison Education Program. His newest book,
Table and Temple: The Christian Eucharist and its Jewish Roots,
was published in 2020. After receiving B.S. and M.S. degrees at Stanford University, David worked as a seismic engineer in San Francisco. While pursuing his engineering career, he also worked full and part-time in churches and ministries and eventually decided to change paths, go deeper in his faith, and explore his call to ministry. He received a M.Div. from Princeton Theological Seminary and a Ph.D. in theological ethics from Duke University. He is an ordained Minister of Word and Sacrament in the PC(USA), for many years acted as co-chair of the Christian Systematic Theology Section of the American Academy of Religion, is a member of the Society of Christian Ethics and the Association for Reformed and Liturgical Worship, and has worked on many committees on the local and national level for the PC(USA).
Dr. Pam Bush
Associate Director of Learning and Formation
Pam has been a member of the Western Theological Seminary Formation Team since 2016, caring for students, facilitating formation courses and peer groups, and creating opportunities for student growth and discipleship. Pam has also been a member of WTS Hebrew Team, teaching interactive Hebrew courses, designing embodied, collaborative pedagogy, and co-creating an innovative program for student leaders. Previous to working full time at WTS, Pam spent 10 years with Campus Ministry at Grand Valley State University as a small group designer and campus minister. Pam graduated from WTS with a Master of Divinity degree in 2006 and a Doctor of Ministry degree in 2017. Before seminary Pam and her family lived and served at Camp Manitoqua and Inspiration Hills Camp. Prior to entering seminary, Pam worked as an RN in Pediatrics, OB, home health, school and camp.
Circle of Advisors
The Hope-Western Prison Education Program Circle of Advisors meets regularly with the program's leadership and serves as a consultative group to help devise and review strategies to help the HWPEP accomplish its goals and purposes.
Mary Bauman
Mary Bauman is a recently retired attorney, practicing in the ERISA/employee benefits area for more than 34 years as a partner in the law firm of Miller Johnson in Grand Rapids. A Hope graduate, she and her husband Ken, also a Hope grad, have two adult sons, two daughters-in-law and two grandchildren. Mary is a former trustee of both WTS and Hope and has been committed to each institution's mission for many years.
Steve Spoelhof
Steve Spoelhof joins the HWPEP Circle of Advisors after a career in manufacturing, non-profit development, and consulting. Busy in the community and church, Steve enjoys an active engagement as a trustee at both Western Theological Seminary and Park Township. He is also a partner in a growing pretzel business, Knot Spot Pretzel.
George Julius
George Julius is one of the earliest friends of HWPEP. A former member of the leadership team at Brooks Beverage, George now serves as a member of the board at Comfort Research in Grand Rapids. Originally from Pittsburgh, George holds an MBA from Northwestern University's Kellogg School of Management.
Bill Wörtz
Bill Wörtz is one of Lansing's most intelligent and politically savvy public policy advocates. If there's a battle to be fought outside of the House or Senate Chamber, there isn't an operative in town you'd rather have at your side. Bill joined Public Affairs Associates in 1996, and has been one of the firm's two managing partners since 2014, with a special focus on energy policy, healthcare policy, and education reform. Bill has been at the forefront of every education reform initiative for the past 20 years. A member of the National Institute for Lobbying & Ethics, Bill is an advocate for transparent lobbying practices and sunshine on the political system.
Phil Miller
Phil Miller has a long history with both Hope College and Western Theological Seminary. The Chairman Emeritus of the Howard Miller Clock Company, Phil serves on the WTS Board of Trustees, and has prior experience as a Hope trustee as well. Phil and his wife, Nancy, are involved in too many local philanthropic efforts to list here. Their impact on the community is extensive and impactful. Phil previously served as the president of the National Association of Housewares Manufacturers, Christ Memorial Reformed Church consistory member and vice president; Bethany Christian Services Board of Directors; and ODL Inc. Advisory Board. Phil has also served the community as a member of the Holland Board of Public Works Board, Partners for Renewal Board Chair, and City of Holland Audit Committee Chair.
Steering Committee
The Hope-Western Prison Education Program is well-served by a representative committee of devoted college and seminary faculty and staff. The Steering Committee provides advice, counsel, support and prayer for every aspect of the program.
Dr. Kristen Deede Johnson
Kristen Deede Johnson serves as WTS Dean and VP of Academic Affairs and Professor of Theology and Christian Formation. Kristen provides wisdom and leadership to the academic affairs of the seminary and represents Western in significant and impactful ways through her writing and speaking. Kristen's teaching and scholarship engage areas of theology, discipleship and formation, justice, culture, and political theory. In 2018, Kristen was named as one of "10 New or Lesser-Known Female Theologians Worth Knowing" by
Christianity Today
.
Dr. Sandra Visser
Sandra Visser serves as Hope College Dean for Arts and Humanities and Professor of Philosophy. Sandra supports faculty and staff development, facilities and other elements of nine of Hope College's 24 academic departments: art and art history, dance, music, theatre, English, history, world languages and cultures, philosophy and religion. She has the same responsibilities for a number of Hope College institutions and programs including the Kruizenga Art Museum, Van Raalte Institute, Center for Ministry Studies, Mellon Scholars, and interdisciplinary programs in Women's and Gender Studies and in Asian Studies. She has taught in prisons in New York and Indiana.
Dr. John Brogan
John Brogan serves as WTS Associate Academic Dean and Professor of New Testament. John directs the Master of Divinity and Master of Arts programs. He was Dean of Students and Student Life at Northwestern College in Iowa for eight years before coming to Western the summer of 2013. He was a Northwestern religion faculty member from 1997 to 2005, department chair from 2002 to 2004, and held the Marvin and Jerene DeWitt Professor of Religion endowed chair. In 2000, he received Northwestern College's Teaching Excellence Award. At Northwestern, he served in numerous administrative roles and on a variety of campus-wide committees. Before serving at Northwestern, John taught at Calvin College, Palm Beach Atlantic University, Reformed Theological Seminary – Charlotte, NC, and Meredith College.
Carl Heideman
Carl Heideman serves Hope College as Director of Process and Innovation. In addition to leading the college's Department of Computing and Information Technology, Carl's fingerprints can be found anywhere on Hope's campus where systems are being improved to serve people more effectively and efficiently. His "outside the box" thinking is invaluable to the HWPEP as it attempts to shape a college education in a prison environment where all of the rules are different than they are on the campus.
Dr. Jared Ortiz
Jared Ortiz serves Hope College as Associate Professor of Religion. Jared teaches Catholic theology in the Department of Religion and is founder and executive director of the Saint Benedict Institute, the Catholic spiritual and intellectual center that serves Hope College. Jared teaches courses on the Incarnation, church history, Catholic Christianity, the theology of the human person and early Christianity. He is currently researching the themes of politics, holiness and disability in Augustine's City of God. Jared has experience teaching religion in the Calvin Prison Initiative at the Richard Handlon Correctional Facility in Ionia, Michigan.

Support the program
For more information about how you can support The Hope-Western Prison Education Program, contact:
Dr. Richard Ray
ray@hope.edu
Dr. David Stubbs
david@westernsem.edu