Support the Program
The Hope-Western Prison Education Program is free for incarcerated students, so outside funding is crucial to begin changing the lives of these men.
"I have been incarcerated since I was in 11th grade. I have wanted to attend college all my life, but have never had the opportunity. This is a once in a lifetime opportunity." —Student, 2019
We Need your Financial Help
Students are not charged to enroll in The Hope-Western Prison Education Program. Though the program has the support of both institutions' senior leadership, dozens of faculty allies and the Michigan Department of Corrections, it needs funding to continue transforming the lives of men incarcerated in the Muskegon Correctional Facility.
How does your donation help?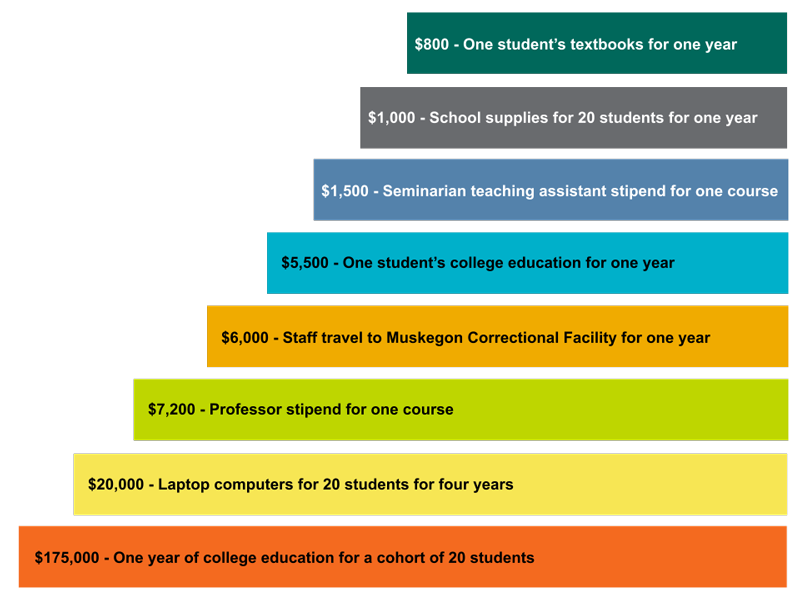 Get Involved
Success stories give hope that more lives can continue to be changed. To inquire about getting involved with the Hope-Western Prison Education Program, contact Dr. Richard Ray at Hope College (
ray@hope.edu
) or Dr. David Stubbs at WTS (
david@westernsem.edu
).
"I want to help as many men as possible here at Muskegon Correctional Facility until the Lord leads me elsewhere." — Student, 2019

Support the program
For more information about how you can support The Hope-Western Prison Education Program, contact:
Dr. Richard Ray
ray@hope.edu
Dr. David Stubbs
david@westernsem.edu