Phelps Scholars Program
Required Courses
Phelps Scholars grow academically as they explore together the diversity that shapes our world.
Fall Course: First Year Seminar
All Hope College students enroll in a First-Year Seminar (FYS) during the fall semester of their freshman year. Phelps Scholas take a team-taught FYS called "Separate or Together: Making Choices that Affect Today and Tomorrow" that talks about stereotypes, prejudices and discrimination. In an effort to complement the learning taking place in class, Phelps Scholars are required to attend at least one field trip during first semester.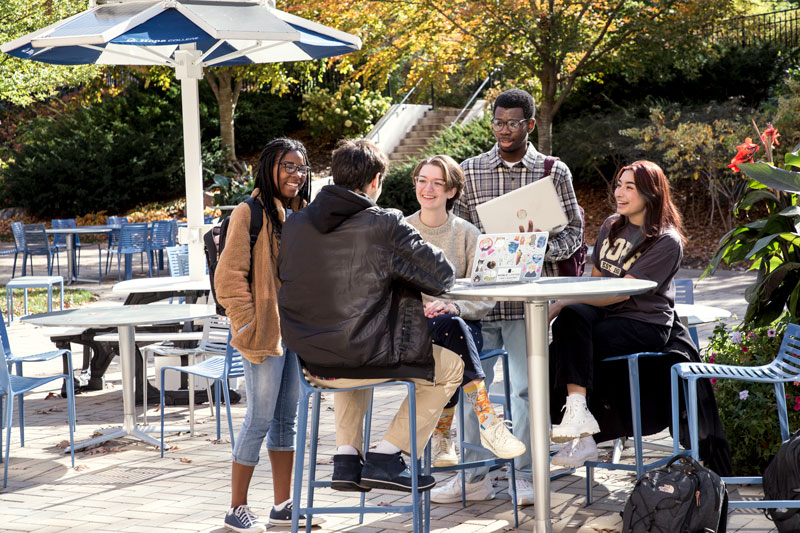 Community Placements
In conjunction with the FYS course, each Phelps Scholar spends 18 hours throughout the first semester serving in a local organization dedicated to creating community in the central city of Holland. Though not required, many students choose to continue volunteering throughout the second semester. Our community placement sites include
Research Projects
Phelps Scholars research a topic related to culture, control or community with the purpose of seeking a global understanding of the issue they select. They then present their research at the end of the term, and the top five presentations are selected to present at the college's Celebration of Undergraduate Research and Creative Performance in the spring.
Advising
Hope students benefit from academic advising that begins as early as Orientation weekend and continues until graduation. First-year students are advised by their FYS professor; for Phelps Scholars, that means one of the five faculty members who team teach FYS. We take advising very seriously and spend a great deal of time talking with students about how to succeed in college and in life.
Spring Semester Course
Phelps Scholars also register for one of two additional courses in the spring semester of their freshman year: Encounter with Cultures or Introduction to American Ethnic Studies. These courses continue to promote a shared vocabulary and understanding as it relates to cultural diversity, with a focus on contemporary issues of race and culture in the United States. Both of these courses complete Hope's requirement for Global Learning in the United States.
Phelps Scholars Program
Scott Hall113 East 13th StreetLower LevelHolland, MI 49423
workP. 616.395.6708
phelpscholar@hope.edu