Computing and Information Technology
Personal Devices
All housing and campus buildings have Wi-Fi coverage. We support connecting any device to our network that doesn't compromise the integrity of the service. This guide is everything you need to know about bringing your smartphones, tablets, laptops, desktops, streaming devices and everything else to campus!
Smartphones and Tablets
Choosing between Android and iOS phones is entirely up to personal preference, and both are 100% supported by our Wi-Fi network and classroom requirements.
Cellular network coverage can vary from city to city, or even from city block to city block. We don't have any control over carrier signal strength in the city of Holland, but if you are having issues with cell phone coverage, these steps may help:
Issues with Facetime Calls
We've received reports from members of the Hope community having issues placing Facetime video and audio calls on our network. We've been working with Apple since early 2017 on this issue, but so far, they haven't been able to fix the problem. For now, CIT suggests using an alternative such as Google Duo, Google Meet, Facebook Messenger, or any other number of video calling services.
Laptops and Desktops
Recommendations
New students, faculty and staff often ask us for recommendations on what computer to buy. While there's no right answer, we do have a couple of general suggestions.
A typical laptop lasts around five years or so. A laptop with a solid state drive (SSD) is ideal because SSDs have no moving parts. Laptops tend to get bumped around a lot. SSDs are also much faster than regular spinning hard drives.
Computer recommendation examples
Free Personal Computer Repair
Are you getting a lot of pop-ups lately? Is your computer running slow? Macbook giving you a sad face? We can help! While we can't promise that we can fix every issue, we have trained staff on hand that are here for you.
Diagnosis and minor fix-ups are free to all Hope College faculty, staff and students.
Computer drop-off hours are during CIT's regular business hours available in the left sidebar. Diagnosis and repair times vary depending on the time of the year.
Streaming and Gaming
Nearly all students who consume TV do so over the internet via streaming services on their personal devices. We make an effort to support as many of these devices as possible on our network. In addition, many residential common areas have live cable TV available.
Supported TVs
Streaming Devices
Speakers
Gaming Consoles
Streaming Services
In addition to the Cable TV available in most residential common areas, the internet at Hope College is ready to handle streaming video. Here are some of the popular services that students at Hope tend to like.
Smart Home Devices
There are thousands of Internet of Things ("IoT") devices available today, and the number keeps growing. We have had mixed success connecting these devices to a large network environment like Hope College's. In general, if the device has been designed to talk directly from one device to another (such as from your phone to a speaker or light bulb) over your home network, it will not work correctly on our network. This includes devices like Chromecast or Sonos. If your device uses a centralized cloud service as a middleman, it may work, although we unfortunately can't officially provide support for the myriad of devices and services available.
Headed to your residence hall's lounge?
Take a look at local channel listings to find something for everyone! These residence hall lounges have cable TV:
College East 3rd Floor

Cook Hall 1st Floor

Durfee 1st Floor

Dykstra 1st Floor

Gilmore 1st Floor

Kollen 1st Floor

Lichty Hall 1st Floor

Phelps Hall Basement

Scott Hall Basement North

Van Vleck Basement

Voorhees Hall Maas

Wyckoff 1st Floor North
CIT COMMUNICATION

Communication from CIT will always be signed by an employee's name. CIT will never ask for your password to keep your account active or to increase your email storage space.
HOURS

CIT is open Monday–Friday,
8 a.m.–5 p.m.
Computing and Information Technology
Durfee Hall110 East 10th StreetHolland, MI 49423
workP. 616.395.7670
cit@hope.edu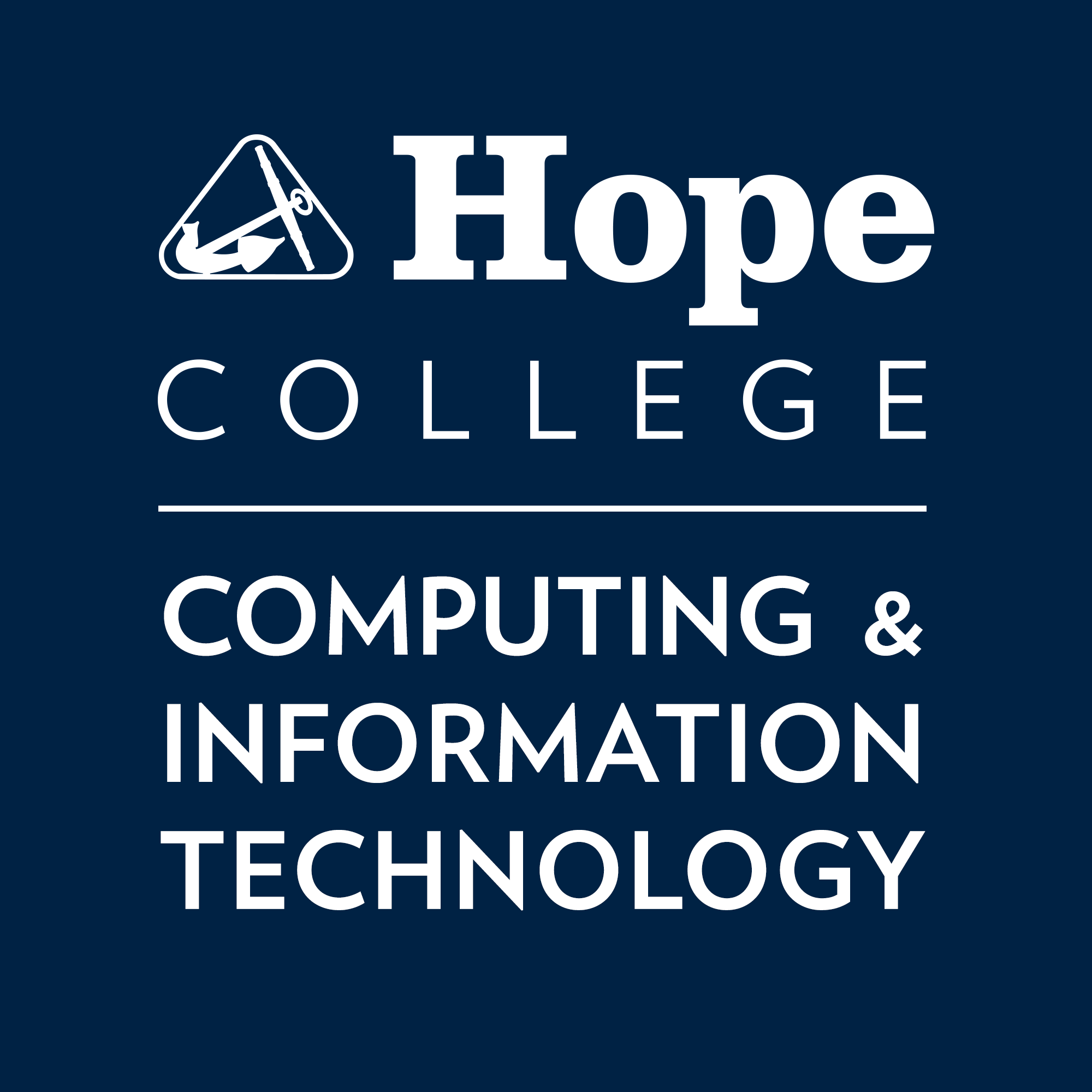 Hope College CIT@hopecit