Computing and Information Technology
Staff
Staff
Abraham Anaya

Lab Manager

anaya@hope.edu

Durfee Hall 110 East 10th Street Holland, MI 49423-3516

Stephanie Aubin

Support Specialist

Work616.395.7670

aubin@hope.edu

Durfee Hall 110 East 10th Street Holland, MI 49423-3516

Steven Bareman

System Manager

Work616.395.7670

bareman@hope.edu

Durfee Hall 110 East 10th Street Holland, MI 49423-3516

Bradley Bouwkamp

Senior Technician

Work616.395.7670

bouwkamp@hope.edu

Durfee Hall 110 East 10th Street Holland, MI 49423-3516

Steven De Jong

Computer Applications Specialist

Work616.395.7670

dejongs@hope.edu

Durfee Hall 110 East 10th Street Holland, MI 49423-3516

Deb DuMez

Project Manager

Work616.395.7674

dumez@hope.edu

The Plaza 99 East 8th Street Holland, MI 49423-3516

David Elsbury

Technician

Work616.395.7670

elsbury@hope.edu

Durfee Hall 110 East 10th Street Holland, MI 49423-3516

Carl Heideman

Director of Process and Innovation

Work616.395.7670

heideman@hope.edu

The Plaza 99 East 8th Street Holland, MI 49423-3516

Leo Herzog

Project Coordinator

Work616.395.7676

herzog@hope.edu

The Plaza 99 East 8th Street Holland, MI 49423-3698

Eugene Kim

Data Warehouse and Analytics Architect

Work616.395.7670

kim@hope.edu

The Plaza 99 East 8th Street Holland, MI 49423-3698

Holly Markel

Database Programmer/Analyst

Work616.395.6838

markelh@hope.edu

The Plaza 99 East 8th Street Holland, MI 49423

Kate Maybury

Training Specialist

Work616.395.7670

mayburyk@hope.edu

Durfee Hall 110 East 10th Street Holland, MI 49423-3516

Chris McDowell

Programmer Analyst

Work616.395.7670

mcdowellc@hope.edu

Holland, MI 49423-3516

Kevin Mendels

Manager CIT Tech Services

Work616.395.7670

mendelsk@hope.edu

Durfee Hall 110 East 10th Street Holland, MI 49423-3516

Jeremy Meyer

Technician

Work616.395.7670

meyer@hope.edu

Durfee Hall 110 East 10th Street Holland, MI 49423-3516

Jeff Pestun

Director of Computing and Information Technology

Work616.395.7670

pestun@hope.edu

Durfee Hall 110 East 10th Street Holland, MI 49423-3516

Michael Reisterer

Systems Manager

Work616.395.7670

reisterer@hope.edu

Durfee Hall 110 East 10th Street Holland, MI 49423

Pauline Rozeboom

Help Desk Service Manager

Work616.395.7660

rozeboom@hope.edu

Durfee Hall 110 East 10th Street Holland, MI 49423-3516

Alex Schuitema

Database Programmer/Analyst

Work616.395.7670

schuitema@hope.edu

The Plaza 99 East 8th Street Holland, MI 49423

Cheryl Shea

Programmer Analyst

Work616.395.7669

shea@hope.edu

The Plaza 99 East 8th Street Holland, MI 49423-3516

Brian Slenk

System Manager

Work616.395.7670

slenkb@hope.edu

Durfee Hall 110 East 10th Street Holland, MI 49423

Maria Tapia

Production Support Supervisor

Work616.395.7656

tapia@hope.edu

Durfee Hall 110 East 10th Street Holland, MI 49423-3516

Dean Thayer

System Manager

Work616.395.7670

thayer@hope.edu

Durfee Hall 110 East 10th Street Holland, MI 49423-3516

Margie Wiersma

Assistant Director of CIT

Work616.395.7670

wiersma@hope.edu

Durfee Hall 110 East 10th Street Holland, MI 49423-3516

Kris Witkowski

Project Manager

Work616.395.7473

witkowski@hope.edu

The Plaza 99 East 8th Street Holland, MI 49423-3516

Dan Yonker

Manager of Infrastructure

Work616.395.7670

yonkerd@hope.edu

Durfee Hall 110 East 10th Street Holland, MI 49423-3698
CIT COMMUNICATION

Communication from CIT will always be signed by an employee's name. CIT will never ask for your password to keep your account active or to increase your email storage space.
HOURS

CIT is open Monday–Friday,
8 a.m.–5 p.m.
Computing and Information Technology
Durfee Hall110 East 10th StreetHolland, MI 49423
workP. 616-395-7670
cit@hope.edu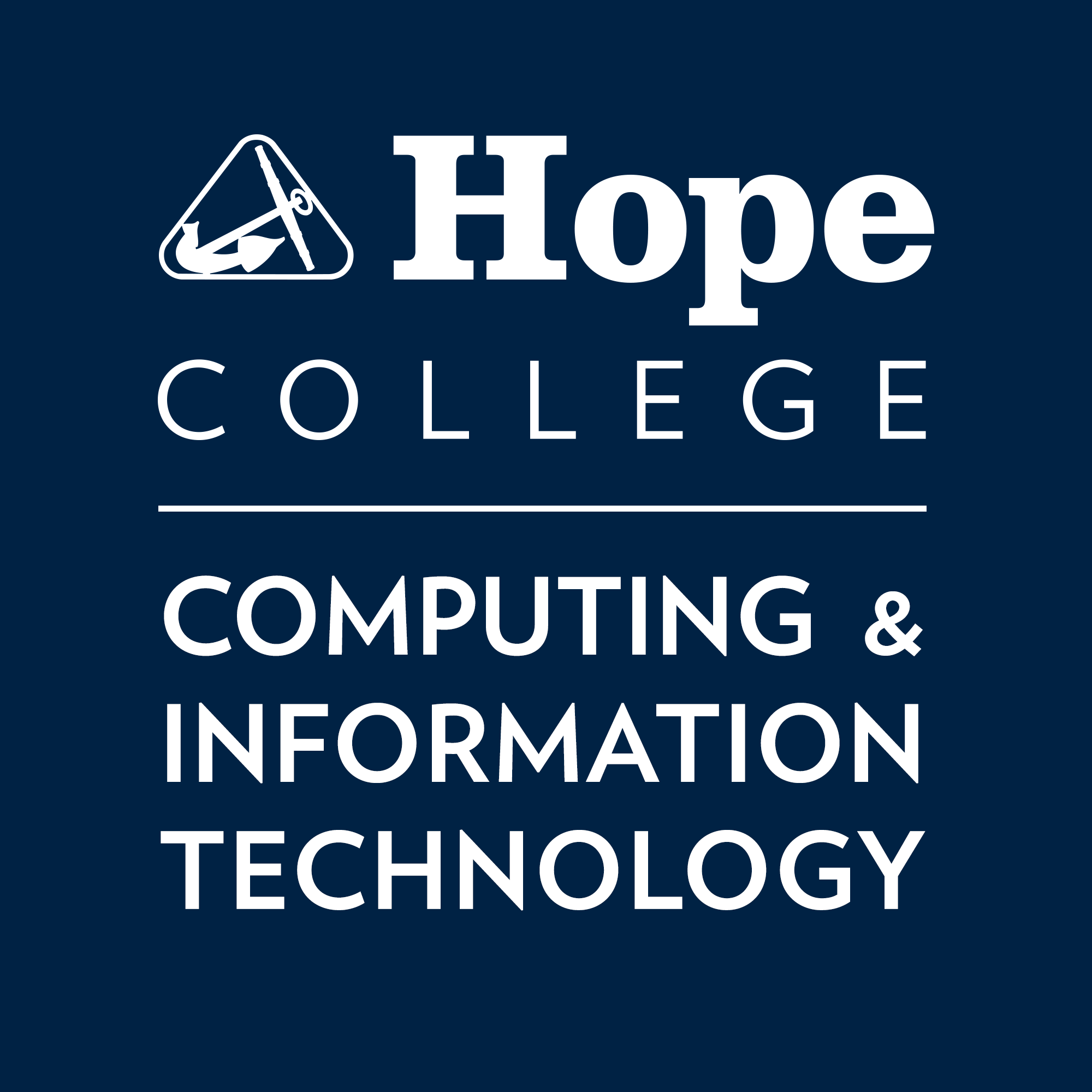 Hope College CIT@hopecit
We retweeted @HopeCollege:Campus offices are closed today for Good Friday. We pray our students and employee have a safe and joyful Easter weekend.