Computing and Information Technology
Accounts and Security
While security is not a product, good practices can help prevent a problem before it starts.
Multi-Factor Authentication
Active Faculty, Staff, and Student accounts are required to set up Multi-Factor Authentication (MFA). If you have questions or would like instructions, start with visiting our MFA webpage.
More information
Hope College Accounts
At Hope College, you will have at least two accounts that you need to maintain.
Your 1Hope Account gets you access to your email, calendar, Google Drive, Moodle, room reservation, and much more. It's the one Hope Account that you need for almost everything! This is a standard username and password. Faculty and staff are also required to have Multi-Factor Authentication on their accounts.
Your plus.hope.edu account is how current staff, faculty, and students manage registration, records, payroll, financial aid, emergency contact information and much more. This is a nine-digit User ID and a password of at least 16 characters.
Reset your plus.hope.edu password You may also have additional accounts with separate credentials, such as EMS, Concerto, or Torque3. Contact the Help Desk if you need assistance with these accounts.
Passwords
At a bare minimum, we recommend avoiding re-use of passwords across different services and changing those passwords often. Long passwords are better than complicated ones, and throwing in a couple of capital letters and symbols doesn't hurt.
If you have trouble remembering passwords, consider using a password manager such as 1Password, Dashlane, Bitwarden, iCloud Keychain, or even the password manager built into Chrome. These programs safely store your passwords for all of your different accounts. This way, you only have to remember one master password to access all of the rest. They can even generate secure random passwords for all of your different accounts!
More information about password managers
Antivirus Software
New PCs usually come with a free trial of antivirus. When that trial runs out, you should either pay to continue the subscription, or uninstall it and use a free antivirus from Microsoft.
WINDOWS 8 AND 10

Windows 8 and 10 have built-in antivirus called Windows Defender. As long as there are no other antivirus programs installed (including ones that are expired), Windows Defender should be activated and protecting your computer.

We also recommend an anti-malware program called Malwarebytes. It's free if you run the program yourself once a month. You can download Malwarebytes here.

WINDOWS 7

Windows 7 has a free antivirus available called Microsoft Security Essentials. If it's not already on your computer, you can download it here.

We also recommend an anti-malware program called Malwarebytes. It's free if you run the program yourself once a month. You can download Malwarebytes here.

MACOS

Mac computers should install Malwarebytes for Mac. It is a free program that you should run at least once a month to scan your Mac. You can download Malwarebytes for Mac here.
If you have any questions, feel free to contact us or stop by!
Did you know that we offer free computer repair?
While we can't promise that we can fix every issue, we have trained staff on hand that are ready and willing to help you.
CIT COMMUNICATION

Communication from CIT will always be signed by an employee's name. CIT will never ask for your password to keep your account active or to increase your email storage space.
HOURS

CIT is open Monday–Friday,
8 a.m.–5 p.m.
Computing and Information Technology
Durfee Hall110 East 10th StreetHolland, MI 49423
workP. 616.395.7670
cit@hope.edu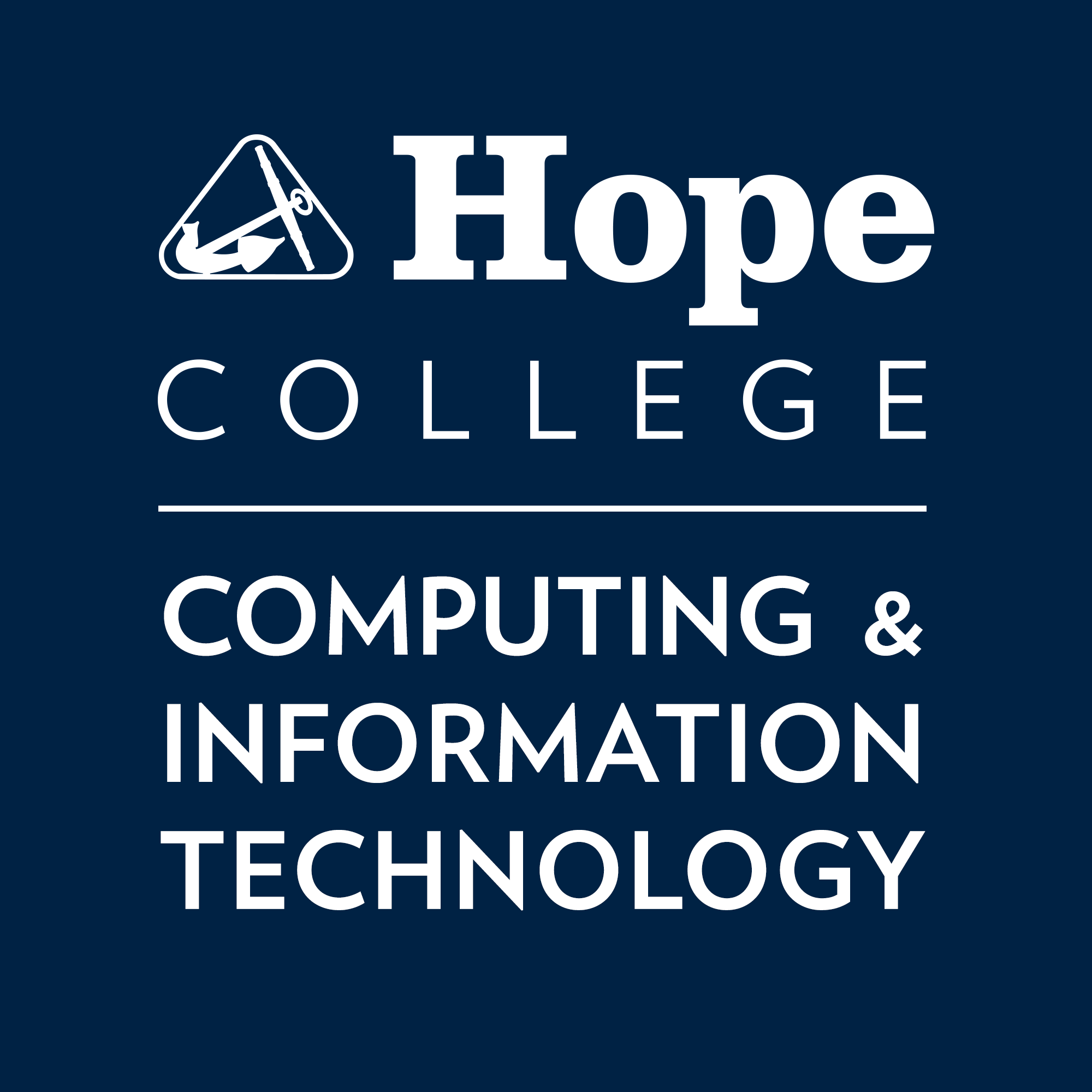 Hope College CIT@hopecit