De Pree Art Gallery
Current Exhibit
Maria Calandra: pencil in the studio
October 7 - November 5, 2021
Reservations are required for those without a Hope ID.
About Maria Calandra

Maria Calandra is an artist based in Brooklyn. While Calandra's studio practice is primarily based in painting, her "Pencil in the Studio" series is an ongoing 10+ year project of pencil-on-paper drawings of other artists' working places. Cumulatively, the series documents a loosely knit together artistic community centered in New York City that grows over time. Many of Calandra's subjects have become both friends and prominent figures in contemporary art as their professional careers have grown since their initial documentation. Co-curated by Calandra and Jay Henderson, De Pree Gallery Director, Calandra's drawings will be paired with artworks from over 20 of her subject's studios for the first time ever. Taken as a whole, the exhibition is a personal perspective on the dynamic artistic scene of NYC and will contribute to defining this generation of contemporary artists.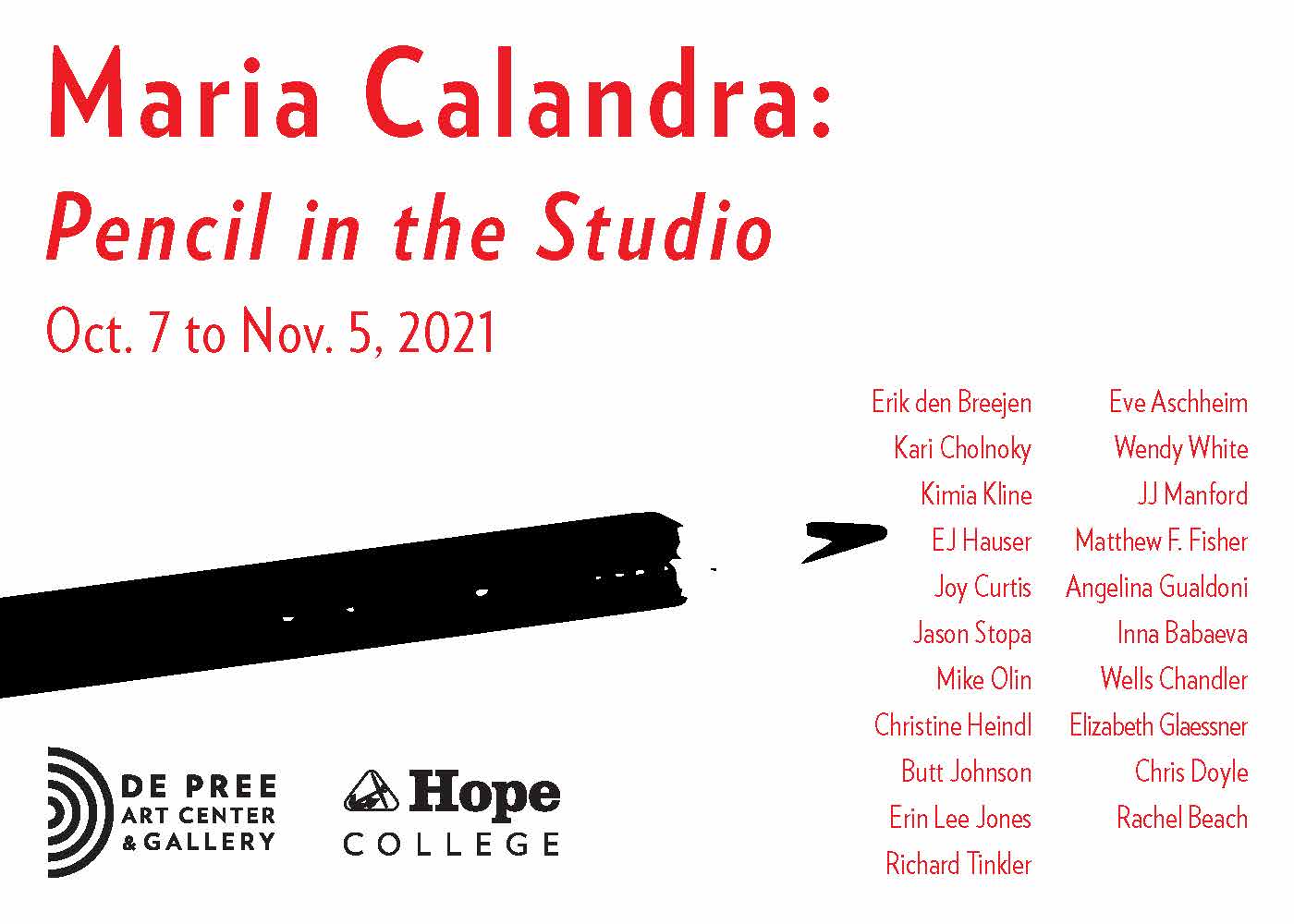 Gallery Hours

De Pree Art Center

Monday–Friday:
10 a.m.–5 p.m.

The gallery is handicapped

accessible through the lower level.



The gallery is open during regular hours for those with a Hope ID. Admission is free.

Reservations are required

for those without a Hope ID.

275 Columbia Ave.
Holland, MI 49423
P. 616.395.7500
art@hope.edu
Gallery Hours
Monday–Saturday:
10 a.m.–5 p.m.
Sunday: 1–5 p.m.
The gallery is handicapped accessible. Admission is free.
De Pree Art Gallery
De Pree Art Center275 Columbia AvenueHolland, MI 49423
workP. 616.395.7500
art@hope.edu