Computing and Information Technology
Leaving the College
We're sorry to see you go, and we're grateful for your time at Hope College. We have a couple of technology considerations for you that may be helpful as you transition away from Hope.
Your 1Hope Account
Email accounts are provided for current Hope College employees and students only. When you graduate, withdraw, retire or otherwise leave the college, your account expires. Unfortunately, we cannot provide 1Hope Accounts to former employees or to non-students, even for a fee.
Most people prefer to use an existing Google Account (or to create a new Google Account) upon leaving the college. This free account includes Gmail, Google Drive, Google Calendar and lots more.
1HOPE ACCOUNT DELETION TIMING

Accounts are deleted shortly after an employee leaves the college, or for students, at the start of the next term after a student leaves. For example, if you graduate in May, your student account will be deleted in the Fall. This also applies to students who are withdrawing from Hope — even on a temporary basis. If you were to re-enroll in classes, new accounts will be created when you return. If your account is slated for deletion, you will receive an e-mail from CIT several weeks in advance so that you may transfer your messages to a new account.

Even if you're walking in the graduation ceremony, but will be taking classes this summer or next semester, your accounts with Hope College will remain active until you stop taking classes. If your name appears on upcoming enrollment reports, you will continue to have an e-mail account.

If you are not graduating from Hope and are actively enrolled in classes for May Term, June Term, Summer Term or the subsequent spring/fall semester, your accounts will not be deleted.
What files need to be transferred to others at Hope?
You have many options for transferring ownership of Google Drive files to another 1Hope Account
For employees, files in your personal folder on the U: ("Red", or "the Shared Drive") will be deleted by CIT, unless you specify that you'd like us to transfer them to someone else
Anything in your "My Drive" that you are the owner of will be deleted when your account is deleted
What files do you need to move to a personal account?
Email and Google Drive
You can bulk transfer all personal Gmail emails and/or all Google Drive files with the Takeout Transfer Tool

This can take up to a couple of days, so plan ahead

Consider setting up an email vacation responder and turning on email forwarding
Changing the owner of a folder in Google Drive does not change the ownership of all of its contents
Google Calendar
You can export and import your Google Calendar events into a personal Google account
Google Contacts
You can export and import your contacts into a personal Google account
From now on, you'll log into plus.hope.edu with the "Enter Secure Area for Former Students and Former Employees" link, not the "Enter Secure Area" link. Make sure that you're able to do this now. You may need to "Forgot PIN?" and set one if you don't know your six-digit PIN.
You may also want to consider removing your bank account information if you set up direct deposit while you were here. Hope College doesn't need to save that after you receive your final paycheck.
Other External Accounts
You may have signed up for accounts over the years where the email on that account is currently set to your 1Hope email address. Be sure to check Facebook, Twitter, LinkedIn, banking, etc. to make sure that you're using your new email address. CIT strongly recommends separating your personal and work addresses as a general principle.
College Employees
Your College-Issued Computer
Do you have any files saved on the Desktop or Documents folders of your Hope-issued computer? What about anywhere else? Any programs that don't sync to the cloud, and save data locally? We will take your computer and securely wipe it to be used by somebody else upon your departure, so be sure to save anything that you'd like to keep.
Turning In Your Computer
On your last day at Hope College, please gather your computer with all chargers, mice, and other accessories. You may either leave them on your desk, or drop them off at the CIT office in Durfee Hall.
Retiree Benefits
Retired faculty and staff at Hope who have worked for at least 10 years have the option to keep their 1Hope email account. Any other additional accounts, such as Zoom, Microsoft Office, and other resources that the college pays for are subject to no longer be supported.
Retirees may, for the time being, also optionally request to manually be added to the distribution list for Hope Daily
CIT can continue to help you with technology assistance. Please contact the Help Desk via email or phone call at 616.395.7670 if you have questions.
New Computer Recommendations
In case you're now in the market for a new computer, CIT has several recommendations and guidelines in the Personal Devices section of our website. If you'd like us to offer suggestions or advice, don't hesitate to email us or give us a call at 616.395.7670!
CIT COMMUNICATION

Communication from CIT will always be signed by an employee's name. CIT will never ask for your password to keep your account active or to increase your email storage space.
HOURS

CIT is open Monday–Friday,
8 a.m.–5 p.m.
Computing and Information Technology
Durfee Hall110 East 10th StreetHolland, MI 49423
workP. 616.395.7670
cit@hope.edu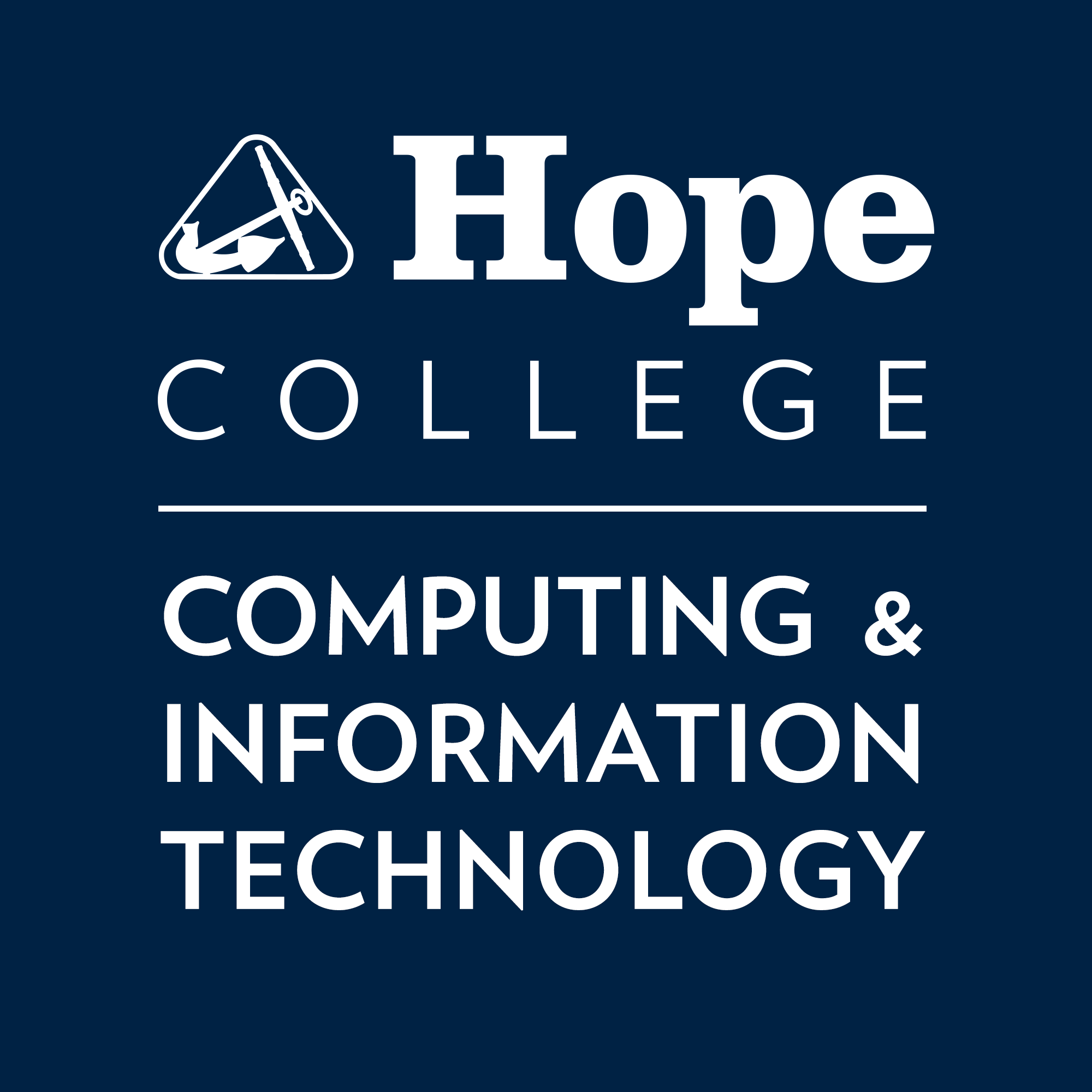 Hope College CIT@hopecit
ℹ️ Unplanned GET Mobile App Issue outage reported. See our website for more information: hope.edu/cit