Computing and Information Technology
Zoom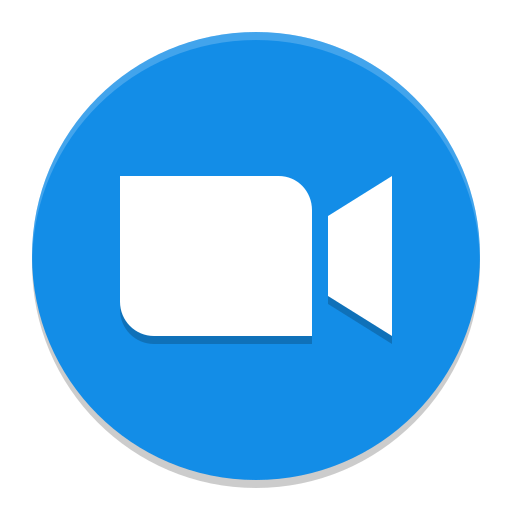 Zoom is a third-party service that CIT maintains a license pool for. If you're looking for advanced live-streaming features or are hosting a public event, Zoom may be a good choice for you.
Getting a Message About "Your Domain Being Claimed"?
Are you seeing this when you log into your Zoom account?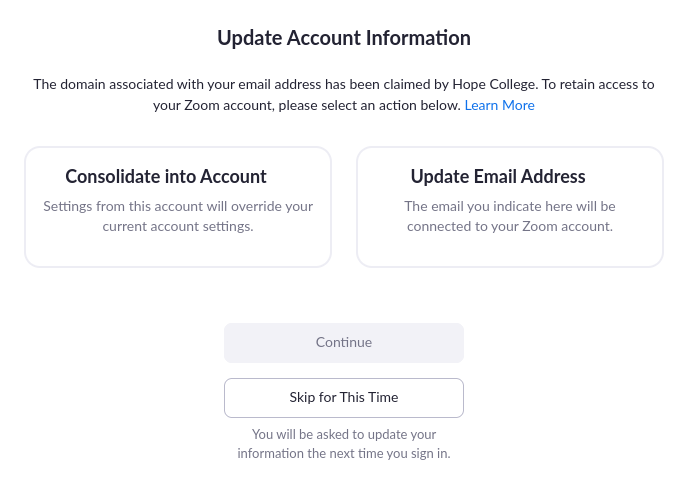 You must have a Zoom account with a 1Hope email address that's not yet in the college's Zoom account.
Active Faculty, Staff, and Students, choose "Consolidate into Account" and follow the instructions.
Graduates, retirees, and others no longer affiliated with Hope, choose "Update Email Address" and follow the instructions.
Getting Started
CIT currently manages the pool of Zoom licenses available for our faculty and staff to use. Begin by contacting CIT to create a Zoom account with your 1Hope Email Address. You will receive an email to activate your account. We strongly recommend creating this account by clicking the "Sign In with Google" so you don't have to remember another password.
Once you've done that, go to your Profile Settings and review the settings available to you before your first call. Peruse these settings carefully: Options such as screen sharing or breakout rooms are disabled by default. Consider enabling the features that you think you'll use.
Put in a work order and we'll get you set up
Zoom offers a web client, but it doesn't work as well as the desktop version and is still actively being developed. When it's time for your first call, you'll want to download and install the Zoom client for your computer, and keep it up-to-date. Encourage all of the participants in your call to do the same.
Download Zoom Client for Meetings
Scheduling a Call
When you open the Zoom desktop application, you have a few options to join or create a call. Most times, you'll want to click the " Schedule" button to create an upcoming meeting that represents classtime or another upcoming meeting. On this screen, you can set the name (or "Topic") of the meeting, what time the meeting will start, how long it will last and whether the meeting is recurring. If you set up a recurring event, the link to join the meeting will stay the same. Once you have scheduled the meeting, it will show up in the right sidebar of the Zoom homescreen. Click the ellipsis next to the scheduled meeting to "Copy invitation" details that you can then distribute to your meeting participants via email, Moodle, etc.
Consult Zoom's blog post about keeping unwanted participants out of your call (preventing "Zoombombing")
During a Call
As the meeting host, you have the ability to control all aspects of the call. If you have enabled the various features in your User Profile settings, along the bottom bar, there are buttons to:
Mute and unmute your microphone

Start and stop your webcam video

Invite others to the call

See the list of participants currently in the call. There are also options to add indicators next to your name, indicating that you are raising your hand with a question, that you do or do not understand a topic, etc.

Share your screen to the call

Access the chat, where you can send text to the whole group or to one individual participant. This is a great way to distribute URLs to external resources such as YouTube videos, links to Moodle, etc

Record the call as a file to your computer

Access breakout rooms. This is a feature to split up your call participants into smaller sub-groups. When participants are in breakout rooms, you as the host have the option to jump into and out of each room, as well as broadcast a chat message to all groups at once.

End the meeting
You also have the option to view all participants in the call at once by switching to the Gallery View in your videos settings.
Recording
Zoom offers two ways of recording your call: Local Recording and Cloud Recording. No matter which method you choose, we recommend uploading and sharing your recordings via Google Drive afterward.
Local Recordings are saved right to your computer itself, and tend to be slightly higher quality. Look in your "Documents" folder for a folder called "Zoom" after the call is completed.
Cloud Recordings are saved to the recordings section of the Zoom website. They are slightly lower quality than Local Recordings, but you may find it more convenient to access the files with this option after the call is completed. We all share limited storage space in Zoom's recordings system, so as soon as you are able, please download your recordings and upload them to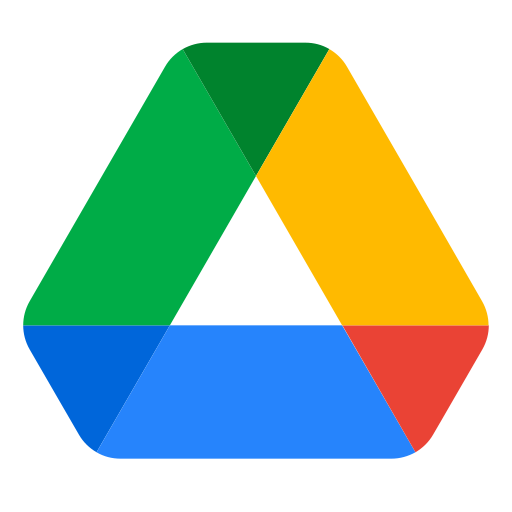 Google Drive. You have a huge amount of storage in your 1Hope account's Google Drive, and we find it to be a more convenient way to share files with other Hope College users.
Closed Captioning
Captions enhance comprehension of material for all participants in class. We highly recommend you enable them for your call.
Built-in Live Transcription captioning is now available as an option in your profile settings. Enable the "Closed Captions" and "Enable live transcription service to show transcript on the side panel in-meeting" options. This will change the "Closed Caption" button on the bottom bar to say "Live Transcription" during a call, and must be pressed by the host at the start of every meeting.
If you use Zoom's Cloud Recordings, we also recommend you enable audio transcriptions in your Zoom profile settings before your first Zoom meeting. This transcript can be downloaded as a special text file. When the video is uploaded to Google Drive, you will have the option to also upload that captions file to display alongside your video.
CIT COMMUNICATION

Communication from CIT will always be signed by an employee's name. CIT will never ask for your password to keep your account active or to increase your email storage space.
HOURS

CIT is open Monday–Friday,
8 a.m.–5 p.m.
Computing and Information Technology
Durfee Hall110 East 10th StreetHolland, MI 49423
workP. 616.395.7670
cit@hope.edu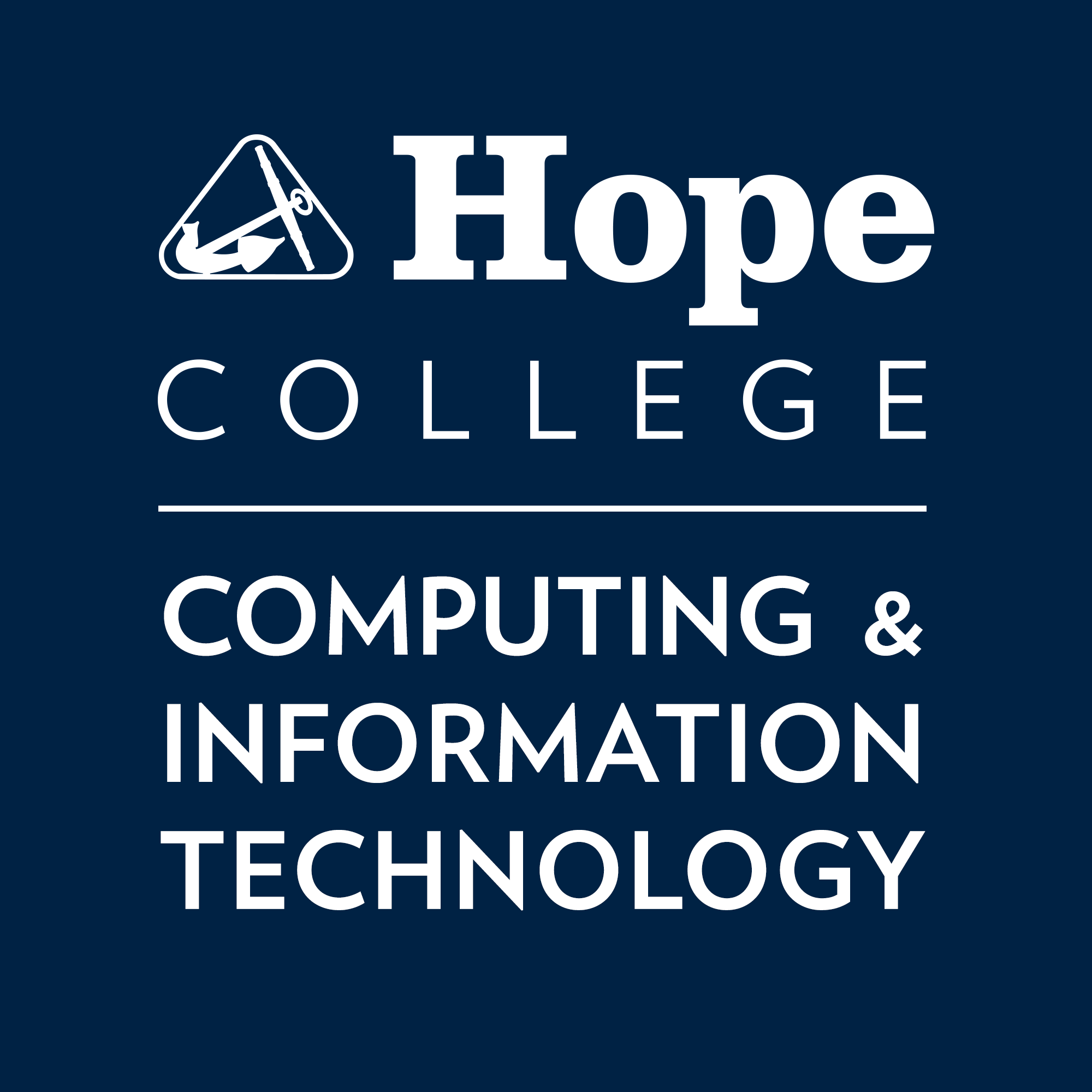 Hope College CIT@hopecit